The 2013 Milwaukee Brewers Arctic Tailgate will take place at Miller Park on Saturday, February 23. As in previous years, the tailgate is the first day that single-game tickets go on sale for 2013 home games. (Group tickets are on sale now.) Tickets go on sale at 9 a.m. at the Miller Park box office.  You can avoid the long lines and buy tickets on brewers.com and by telephone at 414-902-4000.
The tradition of giving away a hot dog, soda, and an Arctic Tailgate t-shirt to the first 2,000 fans will continue. In addition, the Klement's Famous Racing Sausages, Bernie Brewer and Brewers alumni players will be on hand to greet fans.
A limited number of Opening Day tickets will be available for purchase at the Tailgate. (However, Opening Day tickets will not be available online or by phone on the 23rd.). There will be a limit of four Opening Day tickets per person.
If you're interested in seeing some pictures from an Arctic Tailgate party, check out this blog post of a 2009 Arctic Tailgate experience from The Happy Youngster. He's a "ballhawk" who has snagged 58 home run balls during MLB games
For those of you brave enough to set up a shelter or grill at the tailgate, be sure to visit the Milwaukee Brewers website for complete details on safety regulations.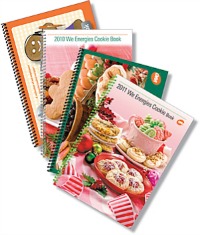 The We Energies Cookie Book is back again for 2012, and We Energies is giving away free copies of the popular recipe book.
Cookie Book giveaways occur at various locations around Wisconsin throughout November.
On Saturday, November 10, We Energies will host their signature giveaway event in the parking lot at Miller Park. From 9 a.m. to 1 p.m, pick up a free Cookie Book, pose for photos with Santa's reindeer, and enjoy hot cocoa.
Free Cookie Book giveaways start today and continue through November 27 at We Energies locations throughout the state. For a complete list of the We Energies Cookie Book distribution events, see the We Energies website.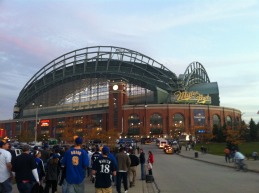 If you're headed to a Brewers game this season a great way to save money at the ballpark is to bring your own snacks and drinks into the game.  The Brewers have a generous carry-in policy which allows you to bring in items such as food, bottled water and soda (must be unopened).  All food items must be contained in a soft see through container, such as a ZipLoc bag.
Items that are also permitted into the park include:
Small bags
Soft-sided cooler bags
Small purses and fanny packs
Small diaper bags, strollers, and wheelchairs
All bags, purses, fanny packs, and soft-sided coolers must be 16″ x 16″ x 8″ or smaller.  Some examples of items they do not allow to be brought in to Miller Park include glass, alcohol, and hard sided coolers.  Also, if you are enjoying the game from a Miller Park suite, carry-ins are not allowed in the suites.  For a complete list of prohibited items and carry-in information, see the Miller Park Security Policy.
If you are looking for a little inspiration what to carry-in to Miller Park, here are a few ideas (in no particular order) to get you started.
1. Soda
Pick up some plastic bottles of soda at the store and you can easily save a few bucks.  Tip: bring a small cooler that will keep your beverages cold.  Another advantage of this approach is you won't miss some of the game because you had to leave your seats to buy a soda.  (Plastic bottles only - no aluminum or glass can be brought into Miller Park!)
2. Water
Another great item to bring to the ballpark, especially on a hot day.
3. Peanuts
Grab a bag at the grocery store or maybe even from a street vendor outside of the stadium.
4. Gorp
Create your own sweet and salty party mix at home. This recipe for White Chocolate Gorp looks like a great candidate!
5. Sub sandwiches
If you are planning to eat lunch or dinner at the ballpark, a cheap alternative is to stop at a sub shop like Subway or Cousins on the way to the ballpark.  Throw the subs in your cooler and you are good to go!  (We suggest bringing some ZipLoc bags to place your subs in…compliance with the Miller Park security policy will help get you into the ballpark faster.)
6. Vegetables
Not too many people eat veggies at the ballpark, but this is a sensible option to help balance all the other type of junk food that people usually take into the game.  Carrots, celery, sugar snap peas, and cucumbers will taste good coming out of a cooler on a warm summer day.
7. Popcorn
Pop a few batches of popcorn at home and you'll save a few bucks.  You'll probably have fresher, better tasting popcorn, too.
8. Cookies
Always a popular choice, especially you have kids. An affordable option to accommodating a sweet tooth.
9. Candy
It's easy to buy at the grocery store and doesn't require any preparation.  Licorice is always popular at the ballpark with our family.
10.  Cracker Jack
Just like the song in the 7th inning stretch says…"Buy me some peanuts and Cracker Jack…"
Do you have any other favorite items that you bring into Miller Park?  If so, please share with our readers and leave a comment!