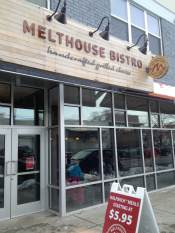 GoGeddit is offering $16 worth of food and beverage for $8 at Melthouse Bistro on the East Side.  Melthouse Bistro specializes in gourmet grilled cheese creations, and is located at 1857 E. Kenilworth Place, just west of N. Farwell Ave.
I had lunch at Melthouse Bistro recently and it was excellent. A restaurant specializing in grilled cheese sandwiches is a great idea. (I wonder why this concept hasn't been done before?) Their menu features 19 different grilled cheese choices plus a handful of soups and salads. Prices range from $7-$9 for most menu items.  The $16 certificate should cover the majority of the cost for a meal for two. 
I ordered the Baconmoto sandwich, which adds bacon and tomato to a classic Wisconsin Sharp Cheddar grilled cheese. How can you go wrong with bacon on a grilled cheese sandwich? My sandwich cost $7.95 and came with a choice of sides - grapes, apples, chips, or their signature cole slaw. You can also upgrade to a cup for soup for a buck.  I chose the cole slaw, which was decent, but not as good as the sandwich.  Next time I think I will try one of their soups as my side item. 
The Melthouse Bistro offer from GoGeddit is available for purchase for the next several days. 
If you enjoy sushi, a great Groupon is available for purchase all weekend.  Pay $15 and you'll receive a Groupon for $30 worth of sushi and other Asian fare at Ginza Sushi Bar.
Ginza is located at 2727A N. Mayfair Road in Milwaukee, which is just north of Mayfair Mall.
Our Experience at Ginza Sushi Bar
Back in December Ginza did another Groupon offer, which we purchased. We visited a couple of months ago and had a great experience.
Never being to Ginza, we asked our waitress what the most popular menu items were.  She suggested the Wauwatosa speciality roll, which consisted of tempura shrimp with avocado inside, topped with spicy lobster and served with a chef's special sauce ($12).  She also recommended the Crazy Tuna roll which was made of pepper tuna & avocado on top with crunchy spicy tuna inside ($11).
In addition to the specialty rolls, she suggested we supplement our meal with a couple of smaller side rolls. We also ordered a $5 Philadelphia roll (smoked salmon, cucumber, and cream cheese) and a $4 Yasai roll (asparagus, avocado & cucumber).
The quality of the food was excellent, with our favorite item being the Wauwatosa roll. Our waitress was attentive, however our food was slow to arrive from the sushi bar. The restaurant was not crowded during the lunch hour that we visited. The overall experience was positive, and we'll be purchasing the Ginza Groupon again.
The Groupon is available for purchase through the end of the weekend.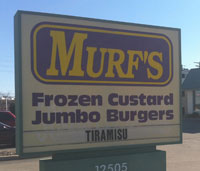 A few months ago Groupon had a deal where Milwaukee area consumers could get $15 worth of food and drink for $7.  It seemed like a pretty good deal, so we thought we'd buy a Groupon and try Murf's out for ourselves.  Not only did we do this to write about how we were able to save money using Groupon, but we wanted to see what business was like the first day after the Groupon was released.
Josh Stevens, who is traveling the country living off nothing but Groupons for a year, advises that one might consider not using a Groupon on the first day eligible because there might be many other people trying to use the Groupon for a first time.  Long lines could result in a headache.
When we arrived at Murf's at 11:30 am we were relieved to see that the 1,700+ other people that purchased the Murf's Groupon weren't there with us!
We ordered a Sloppy-Egg Cheeseburger, fries, Tenderloin Steak Sandwich, Onion Rings, and two sodas.  The steak sandwich and onion rings were on sale as a combo for $5.99.  After our $15 Groupon we had to shell out only $2.69.
Our food was made to order but the wait was short.  The Sloppy-Egg Cheeseburger was unique and the steak sandwich was tender.  We're glad we tried them, although we'd probably stick with one of their burgers next time around just so we can try something new.  Plus, our money would go a little farther by just ordering burgers.
After our lunch we had to try Murf's Frozen Custard.  The flavor of the day was tiramisu and the standard chocolate and vanilla flavors were available as well.  So, we tried the tiramisu and vanilla cones at a total cost of $4.18.  The custard was tasty and comparable to other Milwaukee favorites like Kopps and Oscar's in both taste and price.  When we ordered our custard, the staff at Murf's told us five people had redeemed a Groupon so far.  It was nice to see plenty of seating was still available and we didn't have any problems using a Groupon on the first day it was eligible for redemption.
Using a Groupon ended up to be a good experience and value.  We ended up paying a total of $13.87 ($7 for the Groupon, $6.87 at Murf's) for $21.87 worth of food.  We ate more than enough for two people, so the Groupon would have been a really good deal had we invited more people to lunch and ordered more simple fare like a burger.
If you're interested in learning more about Murf's, check out the Murf's website for their menu or follow their Facebook page for specials.
Have you used a Groupon on the first day it could be redeemed?  How was your experience?