GoGeddit is celebrating their one year anniversary in Milwaukee by offering a great prize for this weekend's Packers game versus the New Orleans Saints.
One lucky winner will win the following:
Four Tickets to the Packers/Saints game on Sunday, September 30
Limousine transportation to and from Lambeau Field
This prize package is valued at $1,200.
The entry period ends today and the winner will be drawn and announced on Facebook on Wednesday morning.
To enter the GoGeddit One Year Anniversary Packers Giveaway, visit the GoGeddit website.
GoGeddit is offering new subscribers to their daily deal newsletter a free $10 account sign-up bonus through September 1!
GoGeddit is currently offering deals to popular places around Milwaukee like Oscar's Pub & Grill, Sail Loft, Great Lakes Distillery, and ComedySportz.  Apply the $10 account credit to one of their current deals, and get the deal for free or almost free!
Free $20 at Oscar's Pub & Grill
Oscar's Pub & Grill, one of Milwaukee's latest additions to the burger scene, is offering $20 worth of food and drink for only $10.  New subscribers can apply the $10 account credit to get this deal for FREE!  Oscar's is located at 1712 W. Pierce Street in Milwaukee and has been featured in Serious Eats Favorite Burger of 2011, OnMilwaukee Editor's Choice, and Milwaukee Mag's Best Burgers of 2012.
I visited Oscar's last year and tried the Big O - Oscar's signature burger featuring a 1/2 pound of premium black Angus topped with Chipotle Jack, Smoked Gouda, Hickory Bacon, Chorizo, Fried Onions, Jalapenos, and a side of House Guacamole.  The burger was great and I vowed that I would return to Oscar's to try out their other burgers, so I'm looking forward to taking advantage of this deal.
There is a limit of 200 Oscar's Pub & Grill offers, so act fast!
Great Lakes Distillery Tour for Two for $2
GoGeddit is also offering a tour package at Great Lakes Distillery in the Walker's Point neighborhood.  For $12 (or $2 for new subscribers), receive the following:
A tour of the Great Lakes Distillery
Two tasting flights of each of six Great Lakes Distillery liquors
Two cocktails from the Great Lakes Distillery Tasting Room Bar
On the Great Lakes Distillery Tour, you'll learn how vodka, gin, whiskey, and other liquors are made right here in Milwaukee.
To get the free $10 new subscriber bonus, visit the GoGeddit website before September 1!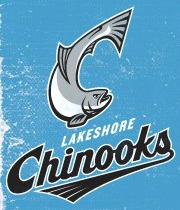 The Lakeshore Chinooks, Milwaukee's newest baseball team, kick off their 70 game season this month.
The Chinooks are a newly formed team owned by a group of individuals including Bob Uecker and Robin Yount.  A member of the Northwoods League, the Chinooks will play teams such as the Wisconsin Woodchucks, the Eau Claire Express, the Wisconsin Rapids Rafters, the Madison Mallards, and the Green Bay Bullfrogs.  The Chinooks home field is Kapco Park, which is a newly constructed field on the campus of Concordia University in Mequon.
The Chinooks have a number of great promotions this season.  Our favorites include:
Tuesday, June 5 - Minibat giveaway (first 750 fans)
Wednesday, June 6 - Chinook Mascot Wall Decal giveaway (first 750 fans)
Thursday, June 7 - Pat McCurdy Pre-game Concert
Friday, June 8 - Lunch Box Cooler giveaway (first 750 fans) and an appearance by LeRoy Butler
Wednesday - June 13 - Drawstring Backpack giveaway (first 750 fans)
Thursday, June 14 - Leinenkugel's Robin Yount Fishing Lure giveaway (first 750 fans)
Friday, June 15 - Chinooks Pint Glass giveaway (first 750 fans)
Friday, June 22 - Stadium Blanket giveaway (first 500 fans, one per adult)
Friday, June 29 - Free Summerfest Ticket (first 1,000 fans)
Sunday, July 1 - SUNday Sunglasses giveaway (first 500 fans)
Wednesday, July 11 - Chinooks baseball giveaway (first 500 fans)
Sunday, July 22 - Chinooks trading card giveaway (first 750 fans)
Sunday, July 29 - Chinooks Mascot Bobblehead giveaway (first 750 fans)
Thursday, August 2 - Pizza Cutter giveaway (first 500 fans)
Wednesday, August 8 - Robin Yount Bobblehead giveaway (first 1,500 fans)
50% Off Lakeshore Chinooks Tickets
GoGeddit, a locally owned daily deal site, currently is running an offer for two Lakeshore Chinooks tickets for $8.  This deal is valid for games from June 5 through June 15.  If you purchase this deal you'll not only get 50% off your tickets, but you can also participate in one of the seven promotions scheduled when this offer is valid.  For more information on this deal, visit the GoGeddit website.