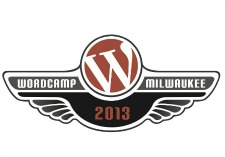 If you have ever wanted to start your own website, consider attending WordCamp Milwaukee June 7-9. WordCamp is a conference for users of WordPress, a free blogging platform that powers over 60 million websites worldwide (including Milwaukee Consumer).
I attended WordCamp Milwaukee last year and spent the weekend with over 200 other website operators learning more about the world's most popular content management system.
One of the reasons that WordPress is so popular is that it allows non-technical people to run a professional looking website. WordCamp caters to users of all technical abilities - from those who are getting ready to launch their first website, to developers that write code to extend the capabilities of WordPress.
WordCamp Milwaukee Discount Code
At $25 a ticket, WordCamp is very reasonably priced. Each ticket includes two full days of presentations, lunch both days, and a reception on Saturday night. For $10 more, attend a four-hour Foundation 101 boot camp for new WordPress users and developers on Friday.
I was recently selected to be a speaker at this year's WordCamp Milwaukee, and have a discount code to save $5 on tickets. Enter my last name, Olsen (make sure you spell it right!), in the Coupon Code field at checkout to receive your discount. Only ten discounts are available, so if you're interested, don't delay!
If you're attending WordCamp Milwaukee this year, leave a comment and let me know! I'd love to meet up and say hi. 🙂

The Tripoli Shrine Circus returns to Milwaukee next week. There will be nine shows at the U.S. Cellular Arena February 21-24.
Circus goers can get Buy One Get One Free tickets by visiting the Ticketmaster website and selecting BOGO Offer. The tickets are General Admission, regularly priced at $10 each (before fees).
Alternatively, a coupon is available on the Tripoli Shine Circus website.  The coupon can be redeemed at the U.S. Cellular Arena box office.
Sesame Street Live: Can't Stop Singing is coming to the BMO Harris Bradley Center for six performances Thanksgiving weekend, November 23-25.
Congratulations Cathy J. who was randomly selected as the winner of our ticket giveaway. Cathy has received a family four-pack of tickets to the show.
If you didn't win, you can get a $3 discount on tickets for Sesame Street Live: Can't Stop Singing by visiting the Ticketmaster website and entering discount code ERNIE.