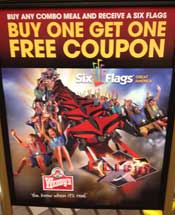 Wendy's is offering Buy One Get One Free tickets to Six Flags Great America this summer.  Visit Wendy's and purchase any combo meal to receive a coupon sheet with three Six Flags coupons.
The coupons on the Wendy's coupon sheet are:
Buy One Get One Free weekdays through July 6
$20 off weekends through July 1
$15 off all days July 7 - September 9
Six Flags.com is offering Buy One Get One Free Six Flags tickets for a limited time, even if you don't have the Wendy's coupon.
If you don't live near a Wendy's, or don't feel like buying a combo meal, you can still receive $20 off your tickets now at SixFlags.com.  The offer on Six Flags.com is available for ALL DAYS, not just weekends like the Wendy's coupon.  The other benefit to purchasing tickets in advance online is to avoid the lines at the ticket booth when you arrive at Six Flags.

[ad#ad-2]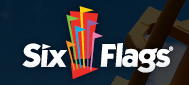 The 2012 operating season kicks off this weekend at Six Flags Great America.  To celebrate the 20th anniversary of the Batman: The Ride roller coaster, Great America admission is just $20! (great deal - regular gate admission to Great America is $60 for adults and $40 for children). This deal is only available for tickets that are purchased online.
Six Flags Great America is open this weekend from 10 a.m. until 8 p.m. on Saturday and 10 a.m. until 7 p.m. on Sunday.
Fright Fest has started at Six Flags, and there are some great discounts available if you purchase your tickets in advance online.  Depending on when you go, you can get up to $25 off your ticket by purchasing online at SixFlags.com
.  If you purchase tickets at the gate, you will pay the full price of $59.99 per ticket ($20 less for children).
For the rest of October, Fright Fest is open every Friday, Saturday and Sunday (as well as Columbus Day - Monday, October 10th).  Fright Fest is more than just Great America being open in October.  During Fright Fest, the entire park is redecorated and attractions are renamed and rethemed for the event.  Actors dressed as ghouls and Halloween themed music throughout the park complete the experience.
For complete Fright Fest information including hours and details of discounts by dates, visit SixFlags.com.