Brewers Fans Eat Free at Miller Park in August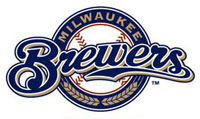 The Brewers have announced a very unique promotion and great deal for fans during the month of August.
Every fan attending a Brewers game at Miller Park next month will receive a $10 voucher redeemable for food, beverages, souvenirs and tickets to upcoming games!
Last week's suspension of Ryan Braun for the remainder of the season was just another disappointment for fans during this long, losing year. The Brewers are offering this promotion as a way to thank fans for their support and to hopefully bring them back out to the ballpark.
The fine print of the Brewers Fans Eat Free promotion is very advantageous to fans. Vouchers will be distributed to ticket holders at all 12 August home games. The vouchers can be used immediately or saved for use at any time during the rest of the season. Fans can stockpile vouchers and combine them to use on more expensive merchandise items or tickets for upcoming games.
For a full list of games available as well as restrictions for this deal, visit Brewers.com.
Comments