The 2013 Tree-Ripe Citrus peach and blueberry season has started!
Tree-Ripe offers high-quality Georgia peaches and Michigan blueberries direct from the farm to Wisconsin residents at a reasonable price.
Prices for Wisconsin customers in 2013 are:
Georgia Peaches - $35 per 1/2 bushel box (approx. 25 pounds)
Michigan Blueberries - $17 for a five-pound box
Tree-Ripe delivers fruit to locations throughout the state through August 10. Tree-Ripe parks a truck at a pre-arranged spot for typically 1-1/2 to 2 hours and sells cases of fruit right from their semi-trailer.  No pre-orders are accepted - you just walk right up, get in line, and buy your fruit!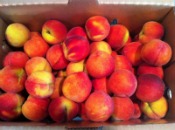 After buying peaches and blueberries from Tree-Ripe for the first time last summer, I was blown away by the quality of the fruit. The peaches were the best I have ever had - very sweet and juicy; not rock hard and gritty like most I have gotten at the grocery store. I had been looking forward to buying them again this year, so I went and picked up a box of peaches the first day they were available in our area.
25 pounds of peaches is a lot to consume in a short period of time, but my family has managed to do it - twice! The box of peaches that I received contained about 60 pieces of fruit. I plan on going to get another box sometime in the next couple of weeks. This time I will also get blueberries (they weren't yet available when I went last week).
For more information about Tree-Ripe Citrus including their delivery calendar, check out the Tree-Ripe website.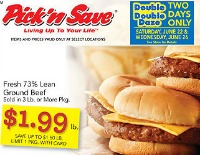 Here is our weekly summary of the best deals with coupon matchups this week at Pick 'n Save, as analyzed and prepared by Rose from Rose Knows Coupons.
As we posted about yesterday, every Saturday and Wednesday for the rest of the month is Double Double Daze; double up to 10 coupons!. For tips on using double coupons, see our post Extreme Couponing in Milwaukee With Double Coupons .
For details on Pick 'n Save Double Coupon Daze, and an explanation of the abbreviations used in the post below, see our Guide to Saving Money at Pick 'n Save.
Here are the best deals I see this week:
Jack's Naturally Rising Pizza 3/$10.98
$1/3 Jack's Pizza, exp. 6/30/13 (RP 05/19/13 R)
$0.75/1 Jack's Pizza, exp. 6/30/13 (RP 05/19/13 R)
= as low as $2.91 each or $2.16 after doubled coupon
Kellogg's or Kashi Cereal or Pop-Tarts $3 each plus receive a FREE gallon of milk wyb 3
$1/2 Kellogg's Frosted Mini-Wheats
$1/3 Kellogg's Pop-Tarts or Kellogg's Pop-Tarts Mini Crisps, exp. 6/30/13 (RP 05/19/13)
$1/2 Kellogg's Pop-Tarts Gone Nutty Toaster Pastries printable
$1/2 Kashi Cereal printable
$1/1 Kashi GOLEAN Vanilla Graham Clusters Cereal printable
$2/2 Kashi Organic Promise Cereal (Recyclebank)
$1/3 Kellogg's Apple Jacks, Corn Pops, Froot Loops, Honey Smacks, Kellogg's Frosted Flakes, Krave, Frosted Mini-Wheats Little Bites Cereals printable
$0.50/1 Kellogg's Special K Multi-Grain Cereal printable
$0.50/1 Kellogg's Rice Krispies Gluten Free Cereal printable
$0.50/1 Kellogg's Special K Red Berries Cereal printable
$1/2 Kellogg's All-Bran, Rice Krispies, Kellogg's Corn Flakes or Raisin Bran Cereals printable
$1/3 Kellogg's Cereal, exp. 7/14/13 (RP 06/02/13)
$0.50/1 Kellogg's Corn Pops Cereal printable
$0.50/1 Kellogg's Frosted Mini-Wheats Crunch printable
= as low as $2 each or $1 after doubled coupon
Oscar Mayer Meat or Turkey Franks (Excludes beef and cheese) $0.98 each, limit 1, $1.50 therafter
$1/2 Oscar Mayer Hot Dogs printable
= 2/$1.48 or 2/.48 after doubled coupon
Johnsonville Brats or Italian Sausage $2.98, limit 1, $3.99 thereafter
$1/1 Johnsonville Italian Sausage printable
= 1.98 for one or $.98 for one after doubled coupon
Read more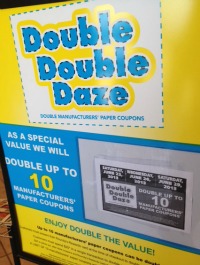 Good news for double coupon shoppers…
The next three double coupon days at Pick 'n Save will be Double Double Daze!
Shoppers will be able to double up to 10 coupons; twice the normal limit on the following days:
Saturday, June 22

Wednesday, June 26
Saturday, June 29
During Double Double Daze promotions, the standard Pick 'n Save Double Coupon policy applies:
Customers must present their Roundy's Rewards Card at the time of checkout to double manufacturers' coupons.
Customers must spent $25 in a single transaction to double manufacturers' coupons. The $25 amount is before tax, and after store coupons and loyalty discounts.
Only manufacturers' coupons with a face value of $1 or less can be doubled.
Does not apply to manufacturers' coupons that are not valid for doubling.
Does not apply to alcohol and tobacco manufacturers' coupons.