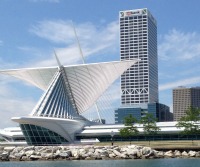 Help the Milwaukee Art Museum celebrate their 125th birthday this weekend by visiting the museum for free!
All visitors to the Art Museum on Saturday and Sunday, June 15-16 will receive free admission.
I was surprised to learn that the Art Museum's history dates back 125 years. According to the Milwaukee Art Museum website, Frederick Layton opened the Layton Art Gallery in 1888 near Cathedral Square. The Layton Art Gallery would later merge with the Milwaukee Art Institute to become the Milwaukee Art Museum. The organization eventually moved to their current location along Milwaukee's lakefront in 1957.
The Milwaukee Art Museum is open from 10 a.m. until 5 p.m. on Saturday and Sunday. Check out the Milwaukee Art Museum website for more information about free admission this weekend..
Father's Day is Sunday!
Fellow fathers would probably agree that the most enjoyable gift is spending time with your children. I don't need a tie or socks (please), but I do appreciate hanging out with my kids and having fun.
Several Milwaukee-area businesses are stepping up again this year and offering Father's Day freebies for dads.  If your dad is like me and appreciates a good deal, make sure to take advantage of one of these special freebies for Father's Day around town.
Milwaukee-Area Father's Day Freebies
The Betty Brinn Children's Museum is offering free admission for dads from noon until 5 p.m.  There are craft activities scheduled for kids to make their dad a special gift.
Free breakfast for dads at George Webb Restaurants on Sunday! Chose from three breakfast entrees with the purchase of another breakfast of equal or greater value.
Fun-loving dads and kids will enjoy the Father's Day offer from Laser Tag Adventure. Dads play free on Sunday when accompanied by a paying child.
The Milwaukee Art Museum is celebrating their 125th birthday by offering free admission for everyone (not just dads) on Saturday and Sunday!
Dads can golf for free at several Milwaukee County Parks golf courses after 1 p.m. on Sunday. Purchase a 9 or 18-hole round and single cart and dad rides and golfs with you for free.  Participating courses are:  Brown Deer Park, Currie Park, Dretzka Park, Grant Park, Greenfield Park, Hansen Park, Lincoln Park, Oakwood Park, Warnimont Park and Whitnall Park.  Click the link above to print the coupon necessary for this offer.
The Milwaukee County Zoo offers free admission for dads from 9 a.m. until 5 p.m.  You can get a free ride on the Penzeys Spices Carousel with the purchase of a Chinet product at Pick 'n Save. Click the link above for more details.
Free admission for all dads at the Milwaukee Public Museum on Sunday. Special activities include a scavenger hunt and a coloring contest (for the kids, not for dad).
Old World Wisconsin offers free admission for dads on Sunday.

Polish Fest is offering free admission to all dads of all ages from 4 - 6 p.m. when accompanied by their children of all ages.
Dads get free admission to The Springs Water Park at Country Springs Hotel June 14-16 when accompanied by a paid admission.
Do you know of any other Father's Day promotions around Milwaukee?  If so, please leave a comment and let us know!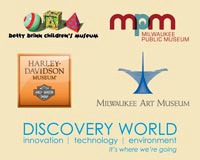 If you are a member of any of the major museums in Milwaukee, you'll want to check out Member Swap Day on Sunday, May 19.
Museum members will receive free reciprocal admission to the other participating museums.
Member Swap Day participating museums:
Betty Brinn Children's Museum
Discovery World
Harley-Davidson Museum
Milwaukee Art Museum
Milwaukee Public Museum
MSOE Grohmann Museum
To participate, museum members should present their membership card at any of the museums they wish to visit.
The participating museums may have special membership offers available during the event to encourage you to join.  More information is available on the Discovery World website.