Palermo's Pizza Case Sale: 16 Pizzas for $25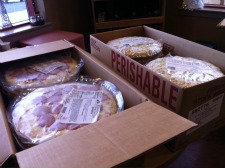 Palermo's Pizza is having a Case Sale on frozen pizzas at their factory in the Menomonee Valley.
For a limited time, cases of 16 - 12″ pizzas are available for $25.
A few things to keep in mind:
Pizzas are sold by the case only
Different varieties are available, however cases cannot be mixed
They are accepting cash only for these purchases
The pizzas have expiration dates of March and April 2013
Although these pizzas are manufactured by Palermo's, they are private label and do not carry the Palermo's name. Palermo's ran a similar sale in December. Jason went and picked up a couple of cases (as shown above). Although the pizzas tasted good and were an excellent value, he didn't think they were as good as Palermo's branded pizzas.
The Palermo's Pizzeria & Cafe is located at 3301 W. Canal Street, just east of Miller Park. The store is open from 7:30 a.m. until 6 p.m. Monday through Friday. We recommend calling Palermo's at 414-643-0919 prior to going to make sure they aren't sold out.
Thanks to Milwaukee Consumer reader Edward K. for the tip on this deal!
Comments