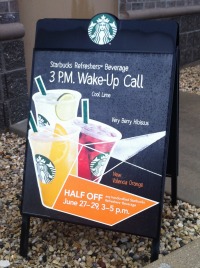 Now that the warm summer weather is finally here, cool off at Starbucks with half-price drinks during their 3 p.m. Wake-Up Call.
On June 27, 28 and 29 enjoy a Starbucks Refresher for half-price 3 - 5 p.m. daily.
Three drinks are available for half-price during this promotion:
Cool Lime

Very Berry Hibiscus
Valencia Orange
I tried a Cool Lime Refresher when Starbucks offered free samples of the beverages last summer. It was very good, and I would definitely get one again…especially if they are half-price! 🙂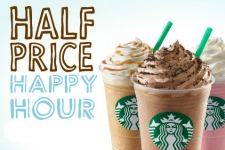 The Starbucks Frappuccino Half-Price Happy Hour is back!
Starting May 3, from 3 - 5 p.m. daily, enjoy a Frappuccino at Starbucks for half-price.
I will admit that I had never tried a Frappuccino until I bought one (okay, two) during the Half-Price Happy Hour last year. I am not usually one for fancy coffee drinks (a latte is about as fancy I get), but the Frappuccinos were really good. I plan on taking advantage of this promotion again this year. 😉
The Frappuccino Half-Price Happy Hour runs through May 12. Check out the Starbucks Frappuccino website for more details including all of the different Frappuccino varieties available.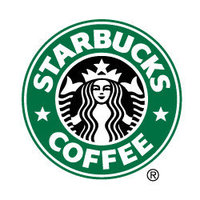 For a limited time today, Groupon is offering a $10 Starbucks card for $5!
Starbucks has done similar offers with LivingSocial and Google Offers over the past year, and each offer has sold over 1 million deals.
The offer is valid to purchase today and tomorrow and must be redeemed by September 30, 2013. Groupon doesn't list a limited number of deals available, but they could end the offer at any time.
To purchase the Starbucks Groupon deal, visit the Groupon website.