Tree-Ripe Citrus: Georgia Peaches and Michigan Blueberries Now Available
The 2013 Tree-Ripe Citrus peach and blueberry season has started!
Tree-Ripe offers high-quality Georgia peaches and Michigan blueberries direct from the farm to Wisconsin residents at a reasonable price.
Prices for Wisconsin customers in 2013 are:
Georgia Peaches - $35 per 1/2 bushel box (approx. 25 pounds)
Michigan Blueberries - $17 for a five-pound box
Tree-Ripe delivers fruit to locations throughout the state through August 10. Tree-Ripe parks a truck at a pre-arranged spot for typically 1-1/2 to 2 hours and sells cases of fruit right from their semi-trailer.  No pre-orders are accepted - you just walk right up, get in line, and buy your fruit!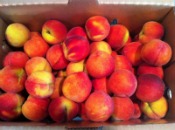 After buying peaches and blueberries from Tree-Ripe for the first time last summer, I was blown away by the quality of the fruit. The peaches were the best I have ever had - very sweet and juicy; not rock hard and gritty like most I have gotten at the grocery store. I had been looking forward to buying them again this year, so I went and picked up a box of peaches the first day they were available in our area.
25 pounds of peaches is a lot to consume in a short period of time, but my family has managed to do it - twice! The box of peaches that I received contained about 60 pieces of fruit. I plan on going to get another box sometime in the next couple of weeks. This time I will also get blueberries (they weren't yet available when I went last week).
For more information about Tree-Ripe Citrus including their delivery calendar, check out the Tree-Ripe website.
Comments