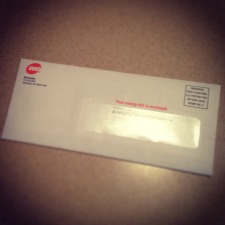 I am always looking for opportunities to make my monthly budget more predictable. Recurring monthly expenses like car payments and cell phone bills are easy to anticipate, however variable expenses like energy bills can be difficult to plan for.
I enrolled in the We Energies Budget Billing program a couple of years ago and appreciate knowing in advance what my bill is going to be each month.
If you are like me and prefer your monthly expenses to be more predictable, the We Energies Budget Billing program might interest you.
How We Energies Budget Billing Works
Once a customer enrolls in the Budget Billing Program, an analysis is done of past energy bills and an average monthly payment is calculated. For the first six months under the program, the customer is charged a repeating monthly payment based on the initial analysis. In addition to seeing the monthly payment due on the bill, customers will see the actual energy they have used and the actual charges. The difference between the monthly payment and the actual charge is tracked as a settlement balance.
At the end of the initial six months, another review is done. If energy use is not in line with the prior six months of billing then an adjustment is made to the monthly payment due.
At the end of the twelve month period the customer's account is reviewed again.  If an adjustment is necessary, a settlement balance will automatically be added or subtracted to the bill in the twelfth month. Or you can elect to have the settlement balance included in the next year's monthly budget bill amount. In the long run, customers will always pay for their actual energy usage.
We Energies recommends that customers track the settlement balance on each bill.  This will avoid any surprises during the seventh or twelfth months of the billing cycle.
To review the terms and conditions and information how to enroll, visit the We Energies Budget Billing webpage.
My Struggles With Budget Billing
As I mentioned before, I like the predictability of knowing what my energy bill is going to be every month.
When I first enrolled in the budget billing program I also elected not to receive bills in the mail. Opening one less bill in the mail makes life a little more pleasant! I initially struggled with not having a paper bill, as I would use my bill as an indicator for how much electricity and natural gas I was using each month. I wasn't making any big decisions from that information, but it was nice to have a general idea if I was using more energy and needed to consider making some energy-saving changes.
Now I don't pay as much attention to my monthly usage but when I am curious about my energy consumption, I'll just log in to the We Energies website and use the tools they have to analyze my energy bill.
What Do You Think of Budget Billing?
Do you use We Energies Budget Billing?  Why or why not?  Please leave a comment and let me know what you think of the program.
Is  your natural gas furnace or boiler more than 10 years old?  If so, We Energies recommends that you consider having a professional inspect it because it might be the right time to consider buying a more energy-efficient furnace or boiler.  Both Focus on Energy and We Energies are offering cash-back reward programs for qualifying natural gas furnaces and boilers.
For example, a family who purchases a natural gas furnace 95%+ AFUE with ECM will receive $275 from Focus on Energy and $100 from We Energies.  The incentives are even higher for income-eligible residential customers who qualify for the Home Heating Assistance program.
For complete information on the rebate and cash-back reward programs, visit the We Energies website.
I recently received an "Energy Gram" email from We Energies that provided me with the top three ways to save money on my electric bill.
The suggestions made by We Energies were:
Control air leakage to save $79 to $131 per year.
Raise thermostat settings to save $58 to $96 per year.
Seal leaks in air ducts to save $52 to $86 per year.
I suspect if these are the top three ways that I can save on my bill, most people will receive the same suggestions on their Energy Gram.
Controlling Air Leakage
After reading the resources that We Energies provided, I learned that their estimate of saving $79 to $131 by controlling air leakage was based on an assumption I could improve the weather stripping around doors and in electrical outlets.  However, all of the windows and doors in my house are fairly new, so there really isn't much of an opportunity for improvement there.  I will have to look further into improving insulation around my electrical outlets, even though I doubt I could save significant dollars in this area.
Raising the Thermostat
We Energies says I could save $58 to $96 per year if I push my thermostat to 76 degrees in the summer.  I currently keep it at 75 degrees.  I wondered if I could really save that much money just by raising the thermostat one degree, so I did a search on Google for "raise thermostat one degree".  I could quickly see in the results that consensus was a homeowner could save two to four percent on a utility bill if they would raise their thermostat one degree.  I could probably save a little money here, although not as much as the email suggests, and I plan to try this out in the near future.  We Energies also says that part of this cost savings could be realized by installing ceiling fans to help rooms feel cooler.
Sealing Leaks in Air Ducts
I'm intrigued by the notion of saving $52 to $86 simply by sealing leaks in the air ducts of my home.  This is a project I had never considered before and have added it to my to-do list to evaluate further.  Again, I turned to Google and found this article from Energy Star.  The article claims that about 20% of the air that moves through the duct system is lost due to leaks, holes, and poorly connected ducts.  The article has links to a Do-It-Yourself Guide and brochures with more information.
All in all, I'm glad I took the time to analyze the energy saving from We Energies.  It got me thinking what I can do to save some money on my utility bill.  If you're interested in analyzing your We Energies bill and looking for ways you can save money, visit the We Energies website for a number of resources, including 101 money-saving tips.