Father's Day is Sunday!
Fellow fathers would probably agree that the most enjoyable gift is spending time with your children. I don't need a tie or socks (please), but I do appreciate hanging out with my kids and having fun.
Several Milwaukee-area businesses are stepping up again this year and offering Father's Day freebies for dads.  If your dad is like me and appreciates a good deal, make sure to take advantage of one of these special freebies for Father's Day around town.
Milwaukee-Area Father's Day Freebies
The Betty Brinn Children's Museum is offering free admission for dads from noon until 5 p.m.  There are craft activities scheduled for kids to make their dad a special gift.
Free breakfast for dads at George Webb Restaurants on Sunday! Chose from three breakfast entrees with the purchase of another breakfast of equal or greater value.
Fun-loving dads and kids will enjoy the Father's Day offer from Laser Tag Adventure. Dads play free on Sunday when accompanied by a paying child.
The Milwaukee Art Museum is celebrating their 125th birthday by offering free admission for everyone (not just dads) on Saturday and Sunday!
Dads can golf for free at several Milwaukee County Parks golf courses after 1 p.m. on Sunday. Purchase a 9 or 18-hole round and single cart and dad rides and golfs with you for free.  Participating courses are:  Brown Deer Park, Currie Park, Dretzka Park, Grant Park, Greenfield Park, Hansen Park, Lincoln Park, Oakwood Park, Warnimont Park and Whitnall Park.  Click the link above to print the coupon necessary for this offer.
The Milwaukee County Zoo offers free admission for dads from 9 a.m. until 5 p.m.  You can get a free ride on the Penzeys Spices Carousel with the purchase of a Chinet product at Pick 'n Save. Click the link above for more details.
Free admission for all dads at the Milwaukee Public Museum on Sunday. Special activities include a scavenger hunt and a coloring contest (for the kids, not for dad).
Old World Wisconsin offers free admission for dads on Sunday.

Polish Fest is offering free admission to all dads of all ages from 4 - 6 p.m. when accompanied by their children of all ages.
Dads get free admission to The Springs Water Park at Country Springs Hotel June 14-16 when accompanied by a paid admission.
Do you know of any other Father's Day promotions around Milwaukee?  If so, please leave a comment and let us know!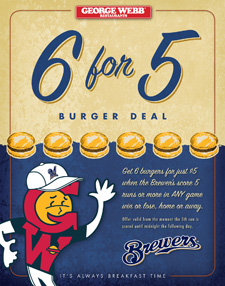 It's Opening Day!
Today not only marks the start of the Milwaukee Brewers 2013 baseball season, but also the start of another year of the 6 for $5 promotion at George Webb.
George Webb restaurants offer a great deal whenever the Brew Crew scores five or more runs in a game. From the moment the fifth run is scored, Webb's offers six burgers for $5 through midnight the next day.
Although this promotion is well-known throughout the Milwaukee area, there are some details that not everyone may be aware of:
The offer is valid for all Brewers games -

home and away

The Brewers

don't need to win the game

, only score at least five runs
The special is valid for customers who eat in, or who carry out
If you chose to eat in a George Webb restaurant, you can split the six burgers with other people at your table
Cheeseburgers are available for a nominal extra charge
Fried onions and pickles are available for free
Coupons are not necessary to take advantage of this deal
The 6 burgers for $5 promotion is available at all 31 Webb's locations throughout the state.
Can you believe that Opening Day is just three weeks away?
In celebration of Spring Training and the upcoming Milwaukee Brewers season, George Webb is offering their famous Milwaukee Brewers 6 for $5 promotion every day through March 20.
Visit any Webb's location and pick up six hamburgers for just $5!
This offer is available for dine-in or carryout. If you chose to eat at Webb's, you can split the burgers between multiple people at your table. There is a small charge to add cheese to your burgers, however pickles and fried onions are available for free.
This offer is available at all 31 Webb's locations throughout the state.