Today's prize in our 24 Days of Holiday Giveaways is a $25 Gift Card to George Webb Restaurants.  We'll pick two winners of today's giveaway!
George Webb has been a Milwaukee staple since 1948, and they recently introduced a new line of premium burgers. There are six new burgers that each weigh 1/3 of a pound and are served with skin-on potato wedges. As we wrote about earlier this week, Webb's will be giving away 100 free burgers at several of their restaurants on Tuesday, December 18.
If you have a Webb's fan on your list this year, they are offering a bonus $5 gift card offer when you purchase a $25 gift card online through December 31.
To enter today's giveaway for a $25 Gift Card to George Webb Restaurants, visit our 24 Days of Holiday Giveaways page.
George Webb Restaurants has introduced a new line of premium burgers and they would like you to try them for FREE!
The first 100 people at the following Webb's locations starting at 4 p.m. Tuesday, December 18 will receive a free "The Original" premium burger:
Cedarburg - W63 N151 Washington Ave.
Franklin - 7105 S. 76th St.
Greenfield - 6231 S. 27th St.
Hales Corners - 5110 S. 108th St.
Milwaukee - 4845 W. Forest Home Ave.
New Berlin - 3636 S. Moorland Rd.
Racine - 4555 Douglas Ave.
Wauwatosa - 12201 W. North Ave.
West Bend - 852 S. Main St.
The promotion runs until 6 p.m., or until the supply of 100 free burgers at each location has been claimed.
The six new George Webb premium burgers each weigh 1/3 pound and are served with skin-on potato wedges. The Original is specially priced at $5.99 during the month of December.
Check out the George Webb Facebook page for the official announcement.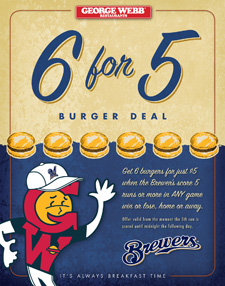 Today not only marks the start of the Milwaukee Brewers 2012 baseball season, but the start of another year of the 6 for $5 promotion at George Webb!  As most Brewers fans know, George Webb restaurants offers a great deal whenever the Brew Crew scores more than 5 runs in a game.  From the moment the 5th run is scored, Webb's offers 6 burgers for $5 through midnight the next day. 
This promotion is well known throughout the Milwaukee area, however there are some details that not everyone may be aware of: 
The offer is valid for all Brewers games -

home and away

The Brewers

don't need to win the game

, only score at least 5 runs
The special is valid for customers who eat in, or who carry out
If you chose to eat in a George Webb restaurant, you can split the 6 burgers with other people at your table
Cheeseburgers are available for a nominal extra charge
Fried onions and pickles are available for free 
Coupons are not necessary to take advantage of this deal
Webb's is also making their annual prediction that the Brewers will win 12 games in a row this season.  When this prediction came true in 1987, Webb's handed out 170,000 free burgers to celebrate!  You can read more fun information about the 1987 giveaway on the George Webb website.