McDonald's is offering a new loyalty card for those that purchase coffee and McCafe beverages.
The McCafe Rewards Card is affixed to all medium and large hot McCafe beverages and contains a sticker to attach to the card. Once you have collected five stickers, your card can be redeemed for a free hot McCafe beverage (any size).
I first noticed the card on my $1 large coffee a couple of days ago. My plan is to collect stickers by purchasing $1 coffees and then redeem the card for a more expensive espresso drink (priced at $3+).
According to the fine print on the card, the promotion runs through April 30, 2013.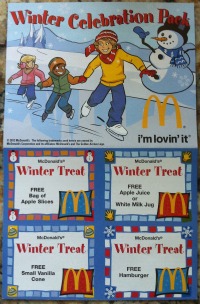 I visited a McDonald's in Pleasant Prairie last weekend and discovered that they were selling Winter Celebration Coupon Packs for only $1.  The coupon packs contain a total of 12 coupons consisting of three coupons for each of the following items:
Free bag of Apple Slices
Free small Vanilla Cone
Free Hamburger
Free Apple Juice or White Milk Jug
The coupon packs that I purchased are redeemable at several Illinois locations and the following Wisconsin locations:
Greendale
Waterford
Franklin
Greenfield
Glendale
Salem
Paddock Lake
Sturtevant
Kenosha
Pleasant Prairie
East Troy
Burlington
Elkhorn
Delavan
Lake Geneva
There is a limit of redeeming one coupon per person per visit.
Are all McDonald's participating in this promotion?  My guess is probably not.  However, you might want to look for this when you visit Mickey D's or call your local restaurant to see if they are participating because it is a great deal!
McDonald's restaurants in southeastern Wisconsin are offering a free oatmeal to students on Thursday, September 13.  Visit any participating McDonald's between 6 and 9 a.m. to claim your free oatmeal.
McDonald's offers two varieties of oatmeal - Fruit and Maple & Blueberry Banana Nut.
The fine print for this offer states that the student must be present to receive the free oatmeal and that students under the age of 15 must be accompanied by a parent or have a student ID to claim the freebie.