2013 George Webb Brewers 6 Burgers For $5 Promotion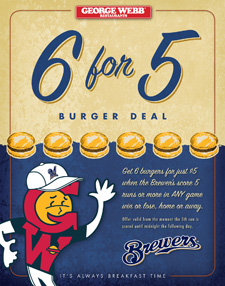 It's Opening Day!
Today not only marks the start of the Milwaukee Brewers 2013 baseball season, but also the start of another year of the 6 for $5 promotion at George Webb.
George Webb restaurants offer a great deal whenever the Brew Crew scores five or more runs in a game. From the moment the fifth run is scored, Webb's offers six burgers for $5 through midnight the next day.
Although this promotion is well-known throughout the Milwaukee area, there are some details that not everyone may be aware of:
The offer is valid for all Brewers games -

home and away

The Brewers

don't need to win the game

, only score at least five runs
The special is valid for customers who eat in, or who carry out
If you chose to eat in a George Webb restaurant, you can split the six burgers with other people at your table
Cheeseburgers are available for a nominal extra charge
Fried onions and pickles are available for free
Coupons are not necessary to take advantage of this deal
The 6 burgers for $5 promotion is available at all 31 Webb's locations throughout the state.
Comments