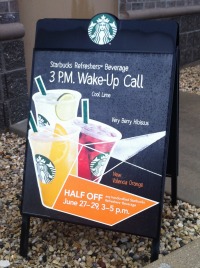 Now that the warm summer weather is finally here, cool off at Starbucks with half-price drinks during their 3 p.m. Wake-Up Call.
On June 27, 28 and 29 enjoy a Starbucks Refresher for half-price 3 - 5 p.m. daily.
Three drinks are available for half-price during this promotion:
Cool Lime

Very Berry Hibiscus
Valencia Orange
I tried a Cool Lime Refresher when Starbucks offered free samples of the beverages last summer. It was very good, and I would definitely get one again…especially if they are half-price! 🙂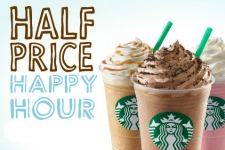 The Starbucks Frappuccino Half-Price Happy Hour is back!
Starting May 3, from 3 - 5 p.m. daily, enjoy a Frappuccino at Starbucks for half-price.
I will admit that I had never tried a Frappuccino until I bought one (okay, two) during the Half-Price Happy Hour last year. I am not usually one for fancy coffee drinks (a latte is about as fancy I get), but the Frappuccinos were really good. I plan on taking advantage of this promotion again this year. 😉
The Frappuccino Half-Price Happy Hour runs through May 12. Check out the Starbucks Frappuccino website for more details including all of the different Frappuccino varieties available.
From May 4-13, you can enjoy a Starbucks Frappuccino for half-price during the Frappuccino Happy Hour.  The happy hour takes place daily from 3 - 5 p.m.  Frappuccinos, while overpriced, are admittedly pretty good!
Starbucks is running a related promotion on Twitter to get people talking about Frappuccino's.  Those who tweet a picture of their Frappuccino and tag their tweets with the hashtag #FrappuccinoHappyHour will be eligible to win a $25 Starbucks gift card.  10 winners will be selected daily and be eligible to win a weekly grand prize.  The photo sweepstakes is going on now (no need to wait until May 4).
For more details on the Frappuccino Happy Hour and the Twitter contest, visit the Starbucks Frappuccino website.