$1 Pizzas at Palermo's Factory Store Sale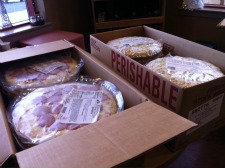 A reader tipped us off to a huge overstock sale that Palermo's Pizza is having on  frozen pizzas at their factory store.
Available sale items include:
7″ single serve pizzas - 2 for $1
11″ and 12″ pizzas - $1
Flatbreads - $1
Quantities and varieties are limited and the sale will end once supplies are sold out. The Palermo's rep that we spoke with thought that inventory would last past today, but could not guarantee.
The Palermo's Factory Store is located at 3301 W. Canal Street, just east of Miller Park. The store is open until 5 p.m. tonight and until noon on Monday. The store is closed on the weekend. You may want to call Palermo's at 414-643-0919 prior to going to make sure they aren't sold out.
Comments