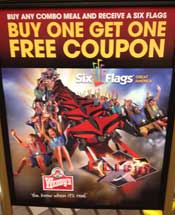 Wendy's is offering Buy One Get One Free tickets to Six Flags Great America this summer.  Visit Wendy's and purchase any combo meal to receive a coupon sheet with three Six Flags coupons.
The coupons on the Wendy's coupon sheet are:
Buy One Get One Free weekdays through July 6
$20 off weekends through July 1
$15 off all days July 7 - September 9
Six Flags.com is offering Buy One Get One Free Six Flags tickets for a limited time, even if you don't have the Wendy's coupon.
If you don't live near a Wendy's, or don't feel like buying a combo meal, you can still receive $20 off your tickets now at SixFlags.com.  The offer on Six Flags.com is available for ALL DAYS, not just weekends like the Wendy's coupon.  The other benefit to purchasing tickets in advance online is to avoid the lines at the ticket booth when you arrive at Six Flags.

[ad#ad-2]
Please enjoy today's guest post written by our friend Nick from DudeFoods.com.  We asked Nick to find the best deals on value menus around the Milwaukee area. 
(DudeFoods is one of our favorite locally written blogs, focusing on unique, and oftentimes hilarious ways to prepare and eat various foods). 
---
Whether they refer to it as the Dollar Menu like McDonald's does, the Everyday Value Menu like Wendy's or the Why Pay More Menu like Taco Bell, all fast food restaurants have them and they're the pinnacle of cheap eats. I'm talking about the value menu.
Recently Milwaukee Consumer asked me for my top five fast food value menu deals, and although prices can vary not only from city to city but from location to location as well I think my picks should be pretty universal no matter where you live.
The McDouble (McDonald's) Even though they dropped the second piece of cheese from their one dollar double cheeseburger and renamed it the McDouble a few years back, this is still a great deal. I mean, a regular cheeseburger on its own at McDonald's costs 99 cents so why not just pay the extra penny and get two beef patties instead of one? Oh, and if you absolutely have to have two pieces of cheese on your burger, their double cheeseburger is still available for 29 cents more.
The Jr. Breakfast Burrito (SONIC Drive-In) This was an easy pick just based on the fact that SONIC serves this delicious value menu item all day long. Aside from one random rogue McDonald's that I found that serves pancakes and breakfast burritos from open to close there's really no other fast food restaurant around where you can enjoy breakfast for lunch or dinner.
The Jr. Ham & Cheddar Sandwich (Arby's) Granted, their value menu items may be WAY smaller than most other fast food restaurants, but if you're looking for a cheap alternative to the burgers and chicken sandwiches that populate most other value menus, Arby's is the place to be with their value Jr. Ham & Cheddar and Jr. Roast Beef sandwiches.
The Frosty (Wendy's) I don't know what it is about the Frosty, but chocolate shakes from other fast food restaurants don't even come close in terms of taste, and the best part is that you can still buy a small one for only 99 cents. If you're a true Frosty fan though Wendy's has an even better deal going on right now where if you donate a dollar to the Dave Thomas Foundation for Adoption you receive a key chain which in turn will get you a free Jr. Frosty (with any purchase) every single time you stop at Wendy's until the end of the year.
The Entire "Why Pay More?" Menu (Taco Bell) Yeah, I know that not picking one specific item is sort of a cop out, but how can you choose when Taco Bell has so many great choices for so cheap? In fact, they probably have the best value menu out there with numerous items as low as even 89 or 79 cents. On top of that, their value menu is what Taco Bell routinely uses to introduce new items for 99 cents or less.  While other chains keep their value menus the same for months on end, Taco Bell's is routinely changing. In fact, it's always sort of crazy to me when Taco Bell customers will order some of the $3 or $4 single menu items, when for the same amount you can order four items off their value menu and end up completely stuffed.
So now I leave it up to you Milwaukee Consumer readers. Do you agree with my picks? Disagree? What are your favorite fast food value menu items?  Please leave a comment and let me know!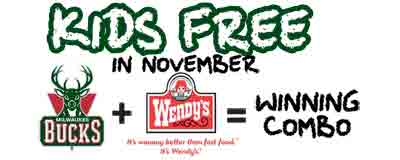 The Milwaukee Bucks have teamed up with Wendy's to offer free tickets for kids during the month of November.  Adults purchasing any Wendy's Combo Meal will be provided a Kids Free voucher which, with purchase of any $24, $29, $37 adult ticket, can be redeemed for up to two kids free tickets in the same price location. 
If going to Wendy's to purchase a Combo Meal isn't convenient for you, you can also take advantage of the deal by purchasing your tickets online, and forgo the Wendy's purchase.
Games available for this promotion are as follows:
Saturday, October 31 vs. Detroit
Saturday, November 7 vs. New York*
Wednesday, November 11 vs. Denver
Saturday, November 14 vs. Golden State*
Monday, November 16 vs. Dallas
Wednesday, November 18 vs. New Jersey
Friday, November 20 vs. Charlotte*
Monday, November 30 vs. Chicago
*$60 Lower Level seats are also being offered for these games.