$20 Admission During Six Flags Great America Opening Weekend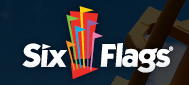 The 2012 operating season kicks off this weekend at Six Flags Great America.  To celebrate the 20th anniversary of the Batman: The Ride roller coaster, Great America admission is just $20! (great deal - regular gate admission to Great America is $60 for adults and $40 for children). This deal is only available for tickets that are purchased online.
Six Flags Great America is open this weekend from 10 a.m. until 8 p.m. on Saturday and 10 a.m. until 7 p.m. on Sunday.
Comments