A Groupon Experience at Murf's Frozen Custard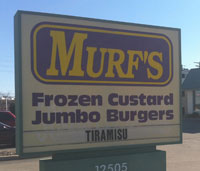 A few months ago Groupon had a deal where Milwaukee area consumers could get $15 worth of food and drink for $7.  It seemed like a pretty good deal, so we thought we'd buy a Groupon and try Murf's out for ourselves.  Not only did we do this to write about how we were able to save money using Groupon, but we wanted to see what business was like the first day after the Groupon was released.
Josh Stevens, who is traveling the country living off nothing but Groupons for a year, advises that one might consider not using a Groupon on the first day eligible because there might be many other people trying to use the Groupon for a first time.  Long lines could result in a headache.
When we arrived at Murf's at 11:30 am we were relieved to see that the 1,700+ other people that purchased the Murf's Groupon weren't there with us!
We ordered a Sloppy-Egg Cheeseburger, fries, Tenderloin Steak Sandwich, Onion Rings, and two sodas.  The steak sandwich and onion rings were on sale as a combo for $5.99.  After our $15 Groupon we had to shell out only $2.69.
Our food was made to order but the wait was short.  The Sloppy-Egg Cheeseburger was unique and the steak sandwich was tender.  We're glad we tried them, although we'd probably stick with one of their burgers next time around just so we can try something new.  Plus, our money would go a little farther by just ordering burgers.
After our lunch we had to try Murf's Frozen Custard.  The flavor of the day was tiramisu and the standard chocolate and vanilla flavors were available as well.  So, we tried the tiramisu and vanilla cones at a total cost of $4.18.  The custard was tasty and comparable to other Milwaukee favorites like Kopps and Oscar's in both taste and price.  When we ordered our custard, the staff at Murf's told us five people had redeemed a Groupon so far.  It was nice to see plenty of seating was still available and we didn't have any problems using a Groupon on the first day it was eligible for redemption.
Using a Groupon ended up to be a good experience and value.  We ended up paying a total of $13.87 ($7 for the Groupon, $6.87 at Murf's) for $21.87 worth of food.  We ate more than enough for two people, so the Groupon would have been a really good deal had we invited more people to lunch and ordered more simple fare like a burger.
If you're interested in learning more about Murf's, check out the Murf's website for their menu or follow their Facebook page for specials.
Have you used a Groupon on the first day it could be redeemed?  How was your experience?
Comments