$8 for $16 of Gourmet Grilled Cheese at Melthouse Bistro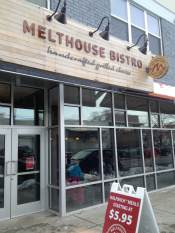 GoGeddit is offering $16 worth of food and beverage for $8 at Melthouse Bistro on the East Side.  Melthouse Bistro specializes in gourmet grilled cheese creations, and is located at 1857 E. Kenilworth Place, just west of N. Farwell Ave.
I had lunch at Melthouse Bistro recently and it was excellent. A restaurant specializing in grilled cheese sandwiches is a great idea. (I wonder why this concept hasn't been done before?) Their menu features 19 different grilled cheese choices plus a handful of soups and salads. Prices range from $7-$9 for most menu items.  The $16 certificate should cover the majority of the cost for a meal for two. 
I ordered the Baconmoto sandwich, which adds bacon and tomato to a classic Wisconsin Sharp Cheddar grilled cheese. How can you go wrong with bacon on a grilled cheese sandwich? My sandwich cost $7.95 and came with a choice of sides - grapes, apples, chips, or their signature cole slaw. You can also upgrade to a cup for soup for a buck.  I chose the cole slaw, which was decent, but not as good as the sandwich.  Next time I think I will try one of their soups as my side item. 
The Melthouse Bistro offer from GoGeddit is available for purchase for the next several days. 
Comments