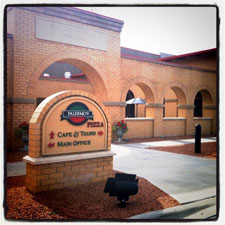 Acting on the advice of one of our readers, we made a recent trip to Palermo's for lunch. Villa Palermo is located in the Menonomee Valley on Canal Street about one mile east of Miller Park.  The complex contains a factory, Pizzeria and Cafe, and company store all on one site.  Prior to our arrival, we weren't sure if Palermo's was serving their tasty frozen pizzas or if we were in store for something different.
It turned out that the lunch menu at the Pizzeria and Cafe is quite extensive and pizzas are made to order.  The menu includes pan pizza slices ($2.75 to $3.75), 9″ or 12″ whole pizzas ($5 to $15), calzones, soup, sandwiches, and more.  (Note some of the prices on Palermo's website are out of date…this post reflects the prices we noted in the Cafe.)
We ultimately settled on two 9″ Classic pizzas - the Suprema and the La Favorita Di Milwaukee, both priced at $6.75.   The Suprema featured sausage, pepperoni, red and green peppers, black olives and onions.  The La Favorita consisted of fresh Italian sausage, mushrooms, and onions.  A 20 oz. soda and a Vitamin Water were $1.75 each.  The pizzas were done perfectly, the ingredients were of good quality, and there was more than enough food for two people.  Although the wait was about 10 to 15 minutes, it wasn't a bother as a fresh pizza was much preferable to a reheated slice.  For those who have limited time for lunch, the pan pizza slices are already made, and seem like a good choice if you are running short on time.
Since we're usually on the lookout for a great bargain, it's rare that we order dessert for lunch.  However, in this case we splurged with an order of 6 cannoli. Cannoli is priced at $1 each, 6 for $5.50, or 12 for $10.  The bite-size cannoli wasn't sitting in a display like you might find at some bakeries or stores. The cannoli was made fresh, had a creamy filling that was as sweet as ice cream, and was fantastic! (Tip: one cannoli won't be enough.  If dining with others, order at least 6!)
Our total bill for pizza, drinks, and dessert was about $23. While not the cheapest lunch we've had, it was a fair value and we left full and satisfied.  A way to make a visit a great deal would be to order a 9 or 12 inch pizza and split it between two people.
Palermo's Pizzeria and Cafe is open from 9:00 A.M. until 5:00 P.M. Monday through Friday.
Palermos Company Store
After placing our lunch order, we browsed the store which contained pizza screens, pans, cutters, olive oils, vinegars, sauces, giardiniera, pepperoncini, and more. What really caught our eye was their frozen pizzas at factory direct prices:
Palermo's Classics - $2.50 Each
Palermo's Health Italia - $6 Each
Palermo's Rustico - $5.50 Each
Palermo's Primo Thin - $4.50 Each
Palermo's Factory Tour
Palermo's offers a factory tour to groups of 10 to 20 individuals.  Tours last about an hour and include a 20 minute video, a walking tour of the plant, and a slice of pan pizza in the Cafe.  Reservations are needed for the tour and can be made by calling 414-455-0383. There are two tour options:
Group Tour Package A - For $5 per person, a group will receive a tour of the facility, a slice of Palermo's pan pizza in the Cafe, and a Palermo's Kitchen Ruler/Pizza Pull.  Children under the age of 5 are free.
Group Tour Package B - For $7.50 per person, a group will receive a tour of the facility, a slice of Palermo's pan pizza in the Cafe, and a Palermo's T-shirt.  Children under the age of 5 are free (T-shirt not included).
Palermo's Coupon
Palermo's also has a coupon on their website for $1 off the purchase of any two Palermo's frozen pizzas.