2012 We Energies Cookie Book Giveaways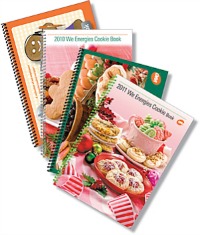 The We Energies Cookie Book is back again for 2012, and We Energies is giving away free copies of the popular recipe book.
Cookie Book giveaways occur at various locations around Wisconsin throughout November.
On Saturday, November 10, We Energies will host their signature giveaway event in the parking lot at Miller Park. From 9 a.m. to 1 p.m, pick up a free Cookie Book, pose for photos with Santa's reindeer, and enjoy hot cocoa.
Free Cookie Book giveaways start today and continue through November 27 at We Energies locations throughout the state. For a complete list of the We Energies Cookie Book distribution events, see the We Energies website.
Comments