A new outdoor flea market is making its debut in Milwaukee this weekend at Miller Park.  The Milwaukee Marketplace will feature over 100 vendors selling a wide variety of merchandise. Sellers will offer everything from crafts and antiques to collectibles and food items. This weekend's event will be the first of 15 to be held in the Miller Park parking lot this year.
The Milwaukee Marketplace will take place from 8 a.m. until 4 p.m. on Sundays while the Brewers are out of town.  The 2012 schedule is as follows:
May 6th and 27th
June 17th and 24th
July 8th and 22nd
August 12th and 26th
September 9th and 23rd
October 12th, 21st, and 28th*
November 4th & 11th
*October dates are subject to change based on Brewers playoff schedule.
Admission to the Milwaukee Marketplace is $2 (children ages 12 and under are free).  There is no charge for parking at Miller Park.  More information can be found on the Milwaukee Marketplace website.
We Energies is giving away a free 2011 We Energies Cookie Book throughout November at various locations around Wisconsin.  The recipe book giveaway has two signature events on Saturday, November 12, 2011, from 9 a.m. to 1 p.m, which will include opportunities for photos with Santa's reindeer (bring your own camera) and to enjoy some hot cocoa too!  The signature events are located at :
Milwaukee - Miller Park parking lot (near Helfaer Field) - One Brewers Way
Appleton - Fox Cities / Timber Rattlers Stadium parking lot - 2400 N. Casaloma Drive
Distribution of the Cookie Books actually starts today in Burlington, Fort Atkinson/Watertown, and Wautoma, and will continue to be distributed throughout Wisconsin until November 29th.  These distribution locations will not have photo ops with Santa's reindeer and hot cocoa like the signature events will.  Milwaukee area distribution locations and dates are as follows:
Burlington - 700 S. Kane St. - November 9th - 1 p.m. to 6 p.m.
Franklin - 4800 W. Rawson Ave. - November 10th from 1 p.m. to 6 p.m.
Port Washington - 700 Sunset Road - November 10th from Noon to 4 p.m.
West Bend - 245 Sand Dr. - November 10th from Noon to 4 p.m.
Waukesha/Delafield - 1000 Northview Rd. (Waukesha County Expo Center) - November 11th from 11 a.m. to 2 p.m.
Milwaukee - One Brewers Way (Miller Park parking lot) - November 12th from 9 a.m. to 1 p.m.
Menomonee Falls - W140 N9100 Lilly Rd. - November 15th from Noon to 4 p.m.
Milwaukee - 3100 W. North Ave. - November 16th from 10 a.m. to 4 p.m.
For complete list of the recipe book distribution events, see the We Energies website.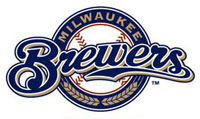 For each Sunday home game, the Milwaukee Brewers offer two free Terrace Level tickets to all active and retired military personnel.  The offer applies to all branches of the military service.  To receive their free tickets, military personnel must present valid military identification at ticket windows 7-12 at Miller Park.  This offer is valid on game day only, and subject to ticket availability.
May 15, 2011 is Military Appreciation Day at Miller Park.  In addition to the free ticket offer, the Brewers will honor active and retired members of the armed forces by offering a free t-shirt to commemorate the day.  Additionally, all three of the Miller Park Brewers Team Stores will grant military personnel with a 30% discount on regular priced merchandise during Military Appreciation Day.