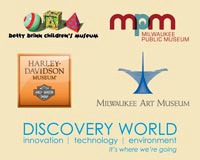 Sunday, December 2 is Member Swap Day at the Betty Brinn Children's Museum, Discovery World, the Milwaukee Art Museum, the Milwaukee Public Museum, and now the Harley-Davidson Museum!  If you are a members of any of the five museums, you will get free reciprocal admission to the other museums!
To participate, museum members should present their membership card at any of the museums they wish to visit.
The event takes place between the hours of 10 a.m. and 5 p.m. The participating museums may have special membership offers available during the event to encourage you to join.  More information is available on the Discovery World website.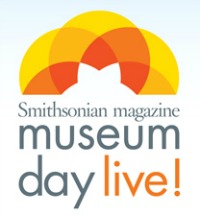 Smithsonian Magazine is sponsoring Museum Day Live! on Saturday, September 29. Hundreds of museums nationwide will offer free admission during Museum Day Live!.
In the Milwaukee area the Milwaukee Art Museum, the Betty Brinn Children's Museum, the Waukesha County Museum, the Racine Art Museum, and the Wisconsin Automotive Museum in Hartford are all participating.
To gain free admission, visit the Museum Day Live! website and fill out the form to receive free general admission for two people.
There are several other Wisconsin museums participating in Museum Day Live! including the Madison Children's Museum and the Wisconsin Maritime Museum in Manitowoc. See the complete list of Wisconsin museums on the Museum Day Live! website.
Father's Day is Sunday, and there are plenty of things to do with Dad around Milwaukee for free.  If your dad appreciates a good deal, make sure to take advantage of one of these special freebies for Father's Day around town.  If you have a frugal dad, he'll appreciate it even more!
Do you know of any other Father's Day promotions around Milwaukee?  If so, please leave a comment and let us know!