Member Swap Day: Free Admission for Museum Members on Sunday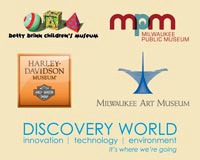 Sunday, December 2 is Member Swap Day at the Betty Brinn Children's Museum, Discovery World, the Milwaukee Art Museum, the Milwaukee Public Museum, and now the Harley-Davidson Museum!  If you are a members of any of the five museums, you will get free reciprocal admission to the other museums!
To participate, museum members should present their membership card at any of the museums they wish to visit.
The event takes place between the hours of 10 a.m. and 5 p.m. The participating museums may have special membership offers available during the event to encourage you to join.  More information is available on the Discovery World website.
Comments