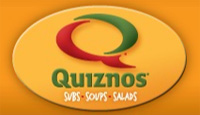 With today's Groupon national deal for Quiznos, you can get lunch or dinner for half off!  For only $6 you get two regular subs or two salads at Quiznos (a $13 value).
According to the Quiznos website, this Groupon will be accepted at all Milwaukee area locations except for the Quiznos located in the Citgo station at 8015 N. 76th Street. There are Quiznos locations in Milwaukee (several), Grafton, New Berlin, Oak Creek, Brookfield, Wauwatosa, Racine and Germantown.
This offer is only available until 11:59 p.m on Thursday on the Groupon website.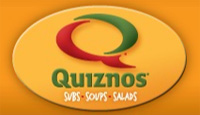 Groupon will be running a national deal on Wednesday that is certain to be very popular.  For $26, you will receive a punch card to be redeemed for eight regular-sized subs at Quiznos (up to a $51.92 value).  The Groupon must be redeemed for the punch card by July 4, 2011, however the punch card itself does not expire.  This would be a great deal to pick up a bunch of good subs for a party or other group function.  Or, save all eight subs for yourself to use!
There are Quiznos locations in Milwaukee (several), New Berlin, Oak Creek, Brookfield, Wauwatosa, Racine and Germantown.
This deal will not be available until Wednesday morning.  We usually get advance notification of these national deals, but cannot mention them until they actually go live.  In this case, Groupon gave us permission to share this offer with our readers before the deal is available.


One of the best deals around Milwaukee is the home delivery of the Sunday Milwaukee Journal Sentinel. You can easily recoup the cost of the paper with using all the coupons from the paper. Each week we'll post some of the best deals we think we saw in the most recent Sunday paper. We know value is in the eye of the beholder, so we'd love to see you submit a comment with the best values you think are advertised in the Sunday paper.
If you aren't currently subscribing to home delivery of the Milwaukee Journal Sentinel, click on the ad below to subscribe through DiscountedNewspapers.com. They guarantee the lowest rate available on the internet.
Notable sales from the Journal Sentinel this week:
Unique sales and promotions seem to be light this week.  We found the Quizno's glossy insert ad to be interesting.  They are introducting new Torpedo sandwiches for only $4 each.  A Torpedo is a 13 inch sub on ciabatta bread.  Torpedo choices include Turkey Club, Italian, Pesto Turkey, Beef Bacon and Cheddar, and Big Kahuna Tuna.
It will be interesting to see what the regular price of these subs are.  The ad states that the $4 price is at limited locations for a limited time only. 
The Quizno's insert also has eight coupons which include buy a Toasty Torpedo Combo and get a Toasty Torpedo for free.  You can see Quizno's full menu at Quizno's website. 
Did you find a good sale or promotion in the Journal Sentinel this week?  If so, please click on the comment link below the headline for this post. 
Following up on the huge popularity of the free Grand Slam breakfast offered after the Super Bowl by Denny's, Quizno's has a give away promotion of their own.   Quizno's is giving away 1 million free subs, just for signing up for their email list.  To get your coupon, click here to be taken to the special website set up for this promotion.  Don't delay since the promotion will end once the counter has hit 1,000,000.
There are 23 Quizno's in the Milwaukee area.  Click here to find the location closest to you.