Polish Fest 2012 Admission Promotions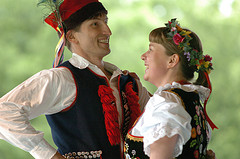 Polish Fest takes place this weekend, June 15-17 at the Summerfest grounds on Milwaukee's lakefront.  Polish Fest weekend marks the start of Milwaukee's popular ethnic summer festival season.
Polish Fest is America's largest Polish festival and features cultural exhibits, Polish music and entertainment, vodka tasting, and of course Polish food.
Polish Fest tickets are $12 at the gate for adults ages 16 - 54 and $10 for adults ages 55 and older.  Children ages 15 and under are free.  There are several ticket promotions to help you save money.
50¢ Friday
Friday, June 15th is 50¢ Friday. From Noon until 5 p.m., everyone gets in to Polish Fest for 50¢. After 5 p.m., admission is $5.
Hunger Task Force Saturday
On Saturday, if you donate three or more food items to the Hunger Task Force, you will get free admission. This promotion doesn't start until 8:00 p.m., but runs until midnight.
Polish Fest Mass Admission Discount
On Sunday you can get into Polish Fest for just $4 if you attend the Polish Fest Mass, which starts at 10:15 a.m.
Free Admission for U.S. Military Personnel
For the duration of Polish Fest, active members of the United States Military will get free admission. To get free admission, military personnel must present their active military I.D. at the Main Gate.
Free Father's Day Admission for Dads
All fathers that are accompanied by a child of any age will get in free on Father's Day between 4 and 6 p.m.
Full details of the festival can be found on the Polish Fest website.
Comments