Amazon has launched a new program which offers a great benefit for everyone who still likes to purchase physical CDs. Amazon AutoRip
 allows users to receive a free MP3 version of any eligible CD purchase!
The best news? Amazon is making this retroactive to include purchases dating back to 1998!
I just checked my Amazon account and there were over 200 new songs in my Amazon Cloud Player library. Score! Some of the albums were ones that I had purchased to give as gifts.  A gift given has become a gift received. (Gifts that were shipped directly to the recipeient are not eligible).
There are currently 50,000 eligible albums in the Amazon library
. If you've purchased a CD from Amazon at some point in the past, it is very likely that you have a free MP3 download of that CD waiting for you in your Amazon Cloud Player.
For more details on this new program (including instructional videos on how this works), check out the Amazon AutoRip
 website.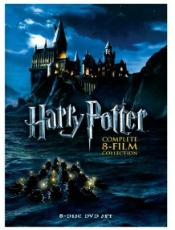 If you've got a Harry Potter fan in your house, check out this deal for the Harry Potter: The Complete 8-Film Collection from Amazon.  The box set includes all eight Harry Potter movies for just $27.99 (regular price - $78.92).
My son is a huge Harry Potter fan, and if Santa hadn't already brought him this same set last year, he'd be getting it this year! I'm not really sure how Santa pays for things, but I'm pretty sure he paid much more than $28 last year. 😉
The Harry Potter: The Complete 8-Film Collection ships free with Amazon Super Saver Shipping. Amazon prices can change at a moments notice, so this pricing may not last long!
Today is Cyber Monday, perhaps the biggest online spending day of the year. If you have any favorite retailers we suggest you visit their website today because you will probably find some great deals waiting for you.
The most visited retail website on Cyber Monday is Amazon.com. You can find Amazon's best Cyber Monday deals here. Some examples include:
Amazon.com was the most-visited retail website on Black Friday. According to ComScore, Inc., Walmart was second, followed by Best Buy, Target, and Apple. And online sales on Black Friday surpassed $1 billion for the first time ever! These retailers are also sure to be among the most popular websites today.
Are there any good Cyber Monday deals that you found? If so, please leave a comment and share your experience with our readers.