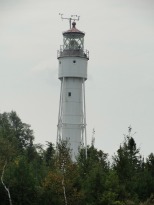 If you're looking for ideas on fun things to do in Wisconsin this spring and summer, check out the Travel Wisconsin Official Travel Guide and the 2013 Spring/Summer Event Guide. The Travel Guide details more than 500 of Wisconsin's best attractions and the Spring/Summer Event Guide is packed with over 500 events in Wisconsin that take place from April through September. You'll likely be surprised at all the neat things in Wisconsin that you probably haven't experienced.
Last year my wife and I visited Bayfield and the Apostle Islands for the first time. Although it is a long drive from the Milwaukee area, the trip was definitely worth it.
Included in the Travel Guide is information about Bayfield and Madeline Island, including contact information for must-do activities including Apostle Islands Cruise Service, the Madeline Island Ferry Line, and Madeline Island. The lighthouse shown above is on Devils Island, which is one of the Apostle Islands. The northern tip of Devils Island is the northernmost point of Wisconsin.
To obtain your free copy of either of the guides, visit the Travel Wisconsin website. Both digital and printed copies of the guides are available.
What are your favorite summer activities in Wisconsin?
Are you looking to get outside and enjoy the great weather that September in Milwaukee has to offer? If so, check out the Events Calendar put together by TravelWisconsin.com. There are over 50 events within 50 miles of Milwaukee through the end of September including:
Brew City Classic Charity Horse Show in West Allis
Milwaukee/NARI Fall Home & Remodeling Show
Doors Open Milwaukee
Harvest Fair at State Fair Park
Pumpkin Harvest Art & Craft Fair in Franksville
Oktoberfest in Glendale
and much more!
TravelWisconsin.com also has a handy Fall Color Report which reports the percentage of fall tree color and the estimated peak time for viewing fall colors. Right now Chippewa Falls is already showing 65% of color and the estimated peak is the 4th week of September. Other areas, such as Washington County are as low as 5% color and with an estimated peak during the 3rd week of October.