Free Travel Wisconsin 2013 Travel and Event Guides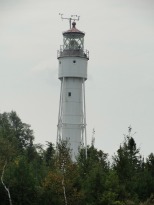 If you're looking for ideas on fun things to do in Wisconsin this spring and summer, check out the Travel Wisconsin Official Travel Guide and the 2013 Spring/Summer Event Guide. The Travel Guide details more than 500 of Wisconsin's best attractions and the Spring/Summer Event Guide is packed with over 500 events in Wisconsin that take place from April through September. You'll likely be surprised at all the neat things in Wisconsin that you probably haven't experienced.
Last year my wife and I visited Bayfield and the Apostle Islands for the first time. Although it is a long drive from the Milwaukee area, the trip was definitely worth it.
Included in the Travel Guide is information about Bayfield and Madeline Island, including contact information for must-do activities including Apostle Islands Cruise Service, the Madeline Island Ferry Line, and Madeline Island. The lighthouse shown above is on Devils Island, which is one of the Apostle Islands. The northern tip of Devils Island is the northernmost point of Wisconsin.
To obtain your free copy of either of the guides, visit the Travel Wisconsin website. Both digital and printed copies of the guides are available.
What are your favorite summer activities in Wisconsin?
Comments