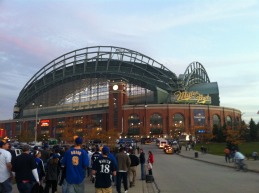 Last week, Don Walker reported on JSOnline that the average ticket price for Brewers tickets sold so far this year is $57.74.
That number astonishes me!
In all of my years of going to Brewers games, I have never paid that much for one ticket. Admittedly, I am deal seeker and most of the time sit in cheapest seats I can find.
In honor of Opening Day, I thought I would share five ways to get cheap Brewers tickets this season.
If you have any tips for finding cheap Brewers tickets, please leave a comment and let me know! 🙂
$1 Uecker Seats
The best deal at Miller Park is still the $1 Uecker Seats. These obstructed view seats are located behind home plate in the Terrace Reserved section. Uecker Seats are only available on game day and can't be purchased until the gates open (typically 90-minutes before game time).
There is high demand for Uecker Seats, and it is advisable to try to purchase them right when they go on sale.
Cheap Brewers Tickets on Stub Hub
My favorite place to find cheap Brewers tickets is StubHub. StubHub is a ticket marketplace where ticket holders offer their tickets for sale, many times at a deep discount. Purchases on StubHub are guaranteed, and tickets can be downloaded and printed right from your computer.
As the season goes on, it is not unusual to see ticket prices on StubHub for $1 or less!
$15 Fair Fridays
Every Friday, the Brewers offer $15 Fair Friday ticket packages. Each $15 package includes a Terrace Reserved seat plus a ticket to the 2013 Wisconsin State Fair ($10 value).
With the new demand-based ticket pricing for 2013, these ticket packages will oftentimes be cheaper than the regular ticket price. For example, the current demand-based price for Terrace Reserved seats for the April 19 game against the Cubs is $20. If you buy tickets under the $15 Fair Fridays promotion, you'll get the ticket for $15 plus a free State Fair ticket!
Half-Price Club Goodwill Seats
During every non-Gold or Marquee game, seats in Club Goodwill - Section 228 (Loge Bleachers) are available for half-price.
Club Goodwill tickets are only available at the left field ticket windows starting when the Miller Park gates open. There is a limit of four tickets per person.
Kids and Senior Citizen Discount Days
On weekday afternoons, the Brewers offer a 50% ticket discount for children ages 14 and younger and for seniors ages 60 and older. This promotion is available for all non-Marquee games, and includes all seats except for the $1 Uecker Seats or seats in Bernie's Terrace.
If you have children (or better yet, grandchildren!), these games can be a big money-saver. Check out the Brewers Kids and Senior Citizens Discount Days webpage for more information.
Your turn…what are your favorite ways to find cheap Brewers tickets?