Big Changes To Milwaukee Brewers Ticket Pricing Strategy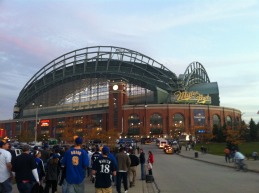 The Brewers are making a big change in their ticket pricing strategy this year by implementing Demand-Based Pricing for all 81 home games.
Demand-Based Pricing means that you may pay more, or less for your ticket this season, depending on the different variables.
Here's some useful information to help you understand how Demand-Based Pricing works.
What is Demand-Based Pricing?
With Demand-Based Pricing the Brewers can adjust ticket prices in real-time to account for variables such as ticket demand, team performance, pitching matchups, and weather. In other words, the more demand there is for tickets, the more the Brewers will charge for tickets.
The Brewers have experimented with Demand-Based Pricing in 2011 and 2012 for a small number of games. Over two-thirds of MLB teams have implemented demand-based pricing and several clubs, including the Minnesota Twins, use the strategy for every seat in the stadium.
Which sections are affected by Demand-Based Pricing?
Demand-based ticket pricing will apply to the following sections:
Loge Outfield
Loge Bleacher
Terrace Reserved
Here's an example of Demand-Based Prices:
Terrace Reserved tickets from June 4th through June 21st:
Tuesday, June 4th vs. Oakland A's - $9
Wednesday, June 5th vs. Oakland A's - $9
Thursday, June 6th vs. Philadelphia Phillies - $13
Friday, June 7th vs. Philadelphia Phillies - $13
Saturday, June 8th vs. Philadelphia Phillies - $20
Sunday, June 9th vs. Philadelphia Phillies - $20
Friday, June 21st vs. Atlanta Braves - $13
Keep in mind the prices shown above are prices as of February 23, 2013 (when single game tickets go on sale at the Arctic Tailgate). Prices could increase as we get closer to game day.
Does this mean tickets are going to be more expensive?
According to the Brewers, Demand-Based Pricing rewards fans with the best deals when they plan their ticket purchases in advance. In most cases, the earlier you buy tickets, the lower the price will be.
The Brewers will have 45 games where the ticket prices will be available for less than the regular rate in at least one of the demand-based sections.
To check out prices for yourself, the Brewers have a handy tool on their website where you can filter or scroll to view ticket prices.
Will the Brewers reduce ticket prices for games that don't have much demand?
In theory, the Brewers could adjust ticket prices downward for games that have low demand due to bad weather or other factors. However, in practice, we doubt that will occur.  The Brewers have made it clear that fans who plan ahead and buy tickets early will get the best price for seat locations. If the Brewers discounted their tickets a week or two before a game without much attendance, imagine how upset season ticket holders and fans who already purchased tickets would be.
What are the best ways to get a good deal on Brewers tickets? 
There are a number of ways you can get tickets to Milwaukee Brewers games on the cheap.
Stubhub.com usually has great prices for Terrace Reserved seats.  We have purchased Terrace Reserved seats for as low as $1 plus a small fee that Stubhub charges. Tickets in other sections are typically priced reasonably as well, but not as much as the Terrace Reserved section.
The BP C'mon Back promotion is a fairly easy way to get free Brewers tickets. Simply fill up at a local BP gas station and get a stamp for every 8 gallons of gas you buy. Collect seven stamps and you can get a ticket to one of nine games.
Check out the Brewers Fan Value Corner for all their discount ticket promotions which include:
5 County 5 Day Celebration
Spring Madness
Brew Crew & The Zoo Ticket Package
Brewers $15 Fair Fridays
Kids and Senior Citizens Discount Days
2-Man Advantage Ticket Package
Miller Mondays
Miller Lite Beerpen
Time Warner Cable Student Nights
Comments