LivingSocial is offering a deal for $10 worth of items at National Bakery & Deli for $5.
National Bakery has been in business since 1925 and is well-known for their breads, pastries, and cakes.  They also have deli meats, cheeses, and made-to-order sandwiches available at their three locations in Brookfield, Greendale, and Milwaukee.
As a testament to the quality of their product, National Bakery & Deli has ran deals on Groupon in the past and they have been very popular, including one offer that sold 2,324 Groupons.  The bakery has also consistently won the top spot in the WISN A-List competition.
To purchase today's National Bakery & Deli deal, visit the LivingSocial website.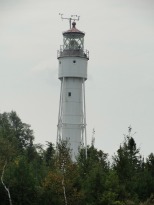 If you're looking for ideas on fun things to do in Wisconsin this spring and summer, check out the Travel Wisconsin Official Travel Guide and the 2013 Spring/Summer Event Guide. The Travel Guide details more than 500 of Wisconsin's best attractions and the Spring/Summer Event Guide is packed with over 500 events in Wisconsin that take place from April through September. You'll likely be surprised at all the neat things in Wisconsin that you probably haven't experienced.
Last year my wife and I visited Bayfield and the Apostle Islands for the first time. Although it is a long drive from the Milwaukee area, the trip was definitely worth it.
Included in the Travel Guide is information about Bayfield and Madeline Island, including contact information for must-do activities including Apostle Islands Cruise Service, the Madeline Island Ferry Line, and Madeline Island. The lighthouse shown above is on Devils Island, which is one of the Apostle Islands. The northern tip of Devils Island is the northernmost point of Wisconsin.
To obtain your free copy of either of the guides, visit the Travel Wisconsin website. Both digital and printed copies of the guides are available.
What are your favorite summer activities in Wisconsin?
In December we reported that the popular children's consignment store Playroom Closet was planning to close its doors in January and that the owner was trying to sell the business.
We're happy to report that the business has been sold and has relocated to 1320 S. 108th Street, which is one block north of Greenfield Avenue on Highway 100.
If you are looking to visit the new Playroom Closet location, just look for the sign for Northern Brewer on Hwy. 100. The door to Playroom Closet faces the parking lot for Northern Brewer.
Playroom Closet store hours:
Sunday and Monday - Closed
Tuesday & Wednesday - 10 am to 5 pm
Thursday & Friday - 12 pm to 7 pm
Saturday - 10 am to 4 pm
Playroom Closet is currently accepting spring and summer items for consignment.  Consignment hours are:
Wednesday - 10 am to 4 pm
Thursday & Friday - 12 pm to 6 pm
For more information about the new Playroom closet, call them at 414-258-0700, or visit thePlayroom Closet website.