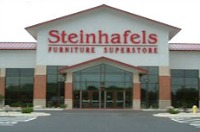 I know a secret, and I hope it's okay to share 😉
On Saturday, June 22 Steinhafels is having a "secret sale" where customers in the know (i.e. you) can save up to 38% at Steinhafels stores. According to Steinhafels, this is the largest discount they ever offer.
Lifehacker says that summertime (specifically July) is often one of the best times of the year to get deals on furniture. Stores will sell off existing inventory in order to make room for new styles in August.
The secret sale at Steinhafels will be offered at all locations including the Steinhafels Mattress Stores.  To receive the discount, you MUST print and present this special invitation.