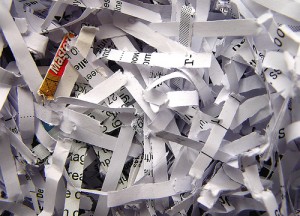 Have sensitive documents shredded for free at ShredFest sponsored by the Better Business Bureau on Saturday, April 20.
Visit Layton State Bank in West Allis between 8:30 - 11:00 a.m. and receive free shredding for up to three boxes of documents. The Layton State Bank in West Allis is located at 10427 W. Lincoln Avenue.
Each year, millions of Americans are the victims of identity theft. Shredding sensitive documents helps minimize the chance of having your identity stolen. In addition to free shredding, ShredFest participants will receive advice from the BBB on how to protect yourself from ID thieves.
The BBB website contains suggestions on which documents should be shredded and how long the records should be retained before shredding them:
Canceled checks
Deposit, ATM, credit card and debit card receipts
Credit card and bank account statements
Credit card contracts and other loan agreements
Documentation of a purchase or sale of stocks, bonds and other investments
Paycheck Stubs
Utility or monthly bills
There are also ShredFest events in Madison and Appleton. Visit the BBB Shredfest webpage for more information on other ShredFest events and to receive more advice on protecting yourself from identity thieves.
Free Paper Shredding at Office Depot
If you are unable to visit ShredFest on Saturday, you can also receive free paper shredding for free at Office Depot. Use the coupon from the Office Depot website to get up to five pounds of paper shredded for free through May 1!