Several Milwaukee area restaurants are honoring American veterans and active service military personnel by offering free meals on Veterans Day.
The following restaurants are participating in a Veterans Day promotion this year. Please note that the giveaways are on Sunday, November 11 unless otherwise noted.
Most restaurants require proof of military service. Click on the above links for more information for each participating restaurant.
If you know of other Milwaukee area restaurants offering free meals for veterans, please leave a comment and let us know!
Related Posts:
Krispy Kreme is celebrating their 75th birthday on Friday, July 13.  Customers that purchase a dozen doughnuts will be able to get a dozen Original Glazed doughnuts for $0.75. 
The only remaining Krispy Kreme in the Milwaukee area is located at 2900 South 108th St. in West Allis. Details of the Krispy Kreme 75th birthday celebration can be found on the Krispy Kreme website.
Other food freebies in Milwaukee on Friday:
Thanks to Milwaukee Consumer reader Bonnie for the tip on this deal!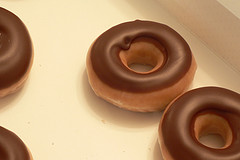 Friday, June 3rd is National Donut Day and you can score free donuts at Krispy Kreme and Dunkin' Donuts!  Krispy Kreme's offer is a little better because it doesn't require a purchase. At Dunkin' Donuts, you need to purchase a beverage in order to get the free donut.
The only remaining Milwaukee area Krispy Kreme is located on Hwy 100 in West Allis. There are five Dunkin' Donuts locations in Southeastern Wisconsin.