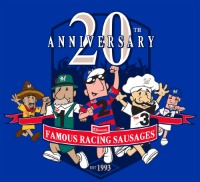 The Milwaukee Brewers Klement's Famous Racing Sausages celebrate 20 years of racing with free breakfast and t-shirts at Bartolotta's NorthPoint Custard on Thursday morning.
The first 250 customers at NorthPoint starting at 6 a.m. on Thursday, June 27 will receive a free breakfast sandwich, coffee, and a 20th Anniversary Klement's Famous Racing Sausages Commemorative t-shirt.
The Northpoint Custard stand is located at 2272 N. Lincoln Memorial Drive, south of Bradford Beach.
What started as a hokey black and white scoreboard animation at County Stadium has turned into a beloved tradition at Miller Park and at community events all over the Milwaukee area. The Milwaukee Brewers website has more information on the promotion and the history of how the Brewers racing sausages became local celebrities.