Receive a burrito, bowl, salad or an order of tacos for just $2 after 6:00 p.m. on Halloween at Chipotle.  The catch is that you have to be wearing a farm inspired costume.  Chipotle suggests a farmer, crop, animal or farm machinery. 
Proceeds from the "Boorito" event will benefit The Chipotle Cultivate Foundation and Farm Aid.  Chipotle is having this promotion to draw attention to their "wholesome, responsibly raised ingredients". 
You can read more about this promotion on the Chipotle website. 
What do you think?  Is it worth the hassle of dressing up to save a few bucks?

Here is a great way to show off your Brewer pride for Halloween - carve your pumpkin with a Milwaukee Brewers pumpkin carving pattern!  With these free patterns, you can put either the current "M" logo or the classic ball and glove logo right onto your pumpkin. 
To use the pattern, follow these instructions:
Cut pumpkin open and remove seeds
Tape pattern to the pumpkin
Using a push pin, nail, or other sharp object, poke several holes around the black areas of the pattern.
Remove the pattern and cut the pumpkin along the dotted line that you created.  Make sure to only remove the areas shown in black on the pattern. 
Once you are done, email us a picture of your creation!  We'll post the best looking pumpkins on our website and on Facebook.  You can email us at admin [at] milwaukeeconsumer [dot] com.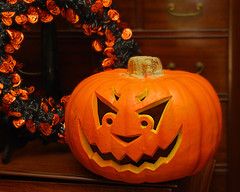 There are several area businesses offering Halloween promotions this week.  Some require you to dress up in costumes, but many just require you to show up.
Discovery World - Buy One Get One Free Admission.  If you wear a costume to Discovery World from October 29th - November 1st, you'll get buy one get one free admission.  Complete the Great Halloween Scavenger Hunt and get a $5 gift certificate for the Discovery World gift shop.  More details on the Discovery World website.
Eble Park Ice Arena - Free Admission.  If you wear your costume to Eble Park Ice Arena between 2:00 P.M. and 4:00 P.M. on October 31st, you'll get free admission.  More details are available here.
Michaels - Free Halloween Event for Kids.  Visit a Michaels store on October 31st between 10:00 A.M. and 12:00 noon to make a free art project and receive free Halloween swag.  More details are available on the Michaels website.  (Thanks to Couponers United for the heads-up on this deal).
Old Navy - $2 Costumes.  On October 30th and 31st, Old Navy will be marking down all costumes to $2!  This is a great way to pick up a last minute costume or to get a costume for next year.  (Thanks to Coupon Saving Game for the heads-up on this deal).
Qdoba - Free Children's Meal.  Children ages 12 & under who are dressed in their Halloween costume will receive a free kids meal with purchase of an adult entree at Qdoba from  October 29th - October 31st.  Check out Qdoba's Facebook page for more information.
Sonic Drive-In - $0.50 Corn Dogs.  Visit Sonic Drive-In on October 31st from 5:00 P.M. until 10:00 P.M. for $0.50 Corn Dogs.  Details can be found on the Sonic website.
Taco Bell - free Black Jack Taco on Halloween.  From 6:00 P.M. until 12:00 midnight on October 31st, get a free Black Jack Taco at Taco Bell restaurants.  No coupon is necessary, and details can be found on the Taco Bell website.
Toys "R" Us Free Halloween Event for Kids - Kids ages 3 and up who visit Toys "R" Us between 12:00 Noon and 3:00 P.M. on October 31st with their costume on will receive a reusable bag, which you can fill up with goodies and giveaways. Geoffrey the Giraffe will lead the kids on a parade around the store.  (Thanks for Bargain Briana for the heads-up on this deal).
Do you know of any Halloween giveaways around Milwaukee that we missed?  If so, leave a comment and let us know!
Related posts: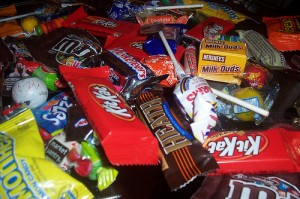 Since Halloween is right around the corner, you might be looking to stock up on some treats for your neighborhood trick-or-treat, so we scanned today's Milwaukee Journal Sentinel for good deals on candy.  It is difficult to compare the deals because of various candies and the ounces of the packages vary between brands as well as stores. 
The best deals can be found if you combine a coupon with a sale price on a bag of candy.  Coupons.com has a couple of good $2 off coupons for bags of Nestle and Wonka brand candy. You can print off more than one coupon to maximize your savings.
Here are some of the deals we found:
Kmart
Kmart has a wide variety of sales and promotions:
$2.29 for 10-12.5 oz bags of Hershey's snack size, Mars, or Nestle fun size candies (Reese's Peanut Butter Cups, Snickers, and Butterfinger are shown in ad.)
2 for $4 on 9 to 22 oz selected varieties of Halloween candy (Skittles and Whoppers are pictured in the ad) and $6.99 20 to 56 oz. assorted halloween candy bags.
Kmart is also running a promotion where you can get a coupon for 2 free bags of fun size candy when you buy $40 worth of Halloween costumes, accessories, or decor.  See their ad or the store for details.
If you buy $10 or $20 worth of candy at Kmart you may qualify to get a coupon for up to $5 off holiday candy.  See the ad or the store for all the details.
Target
Target has 2 for $8 deal on 19.5 oz. Reese's Jumbo Bag Snack Size Treats or 17.5 oz. Mars Minis Mix.  Target also has a sale for $9.99 on 90 count Nestle mix or 105 count Mars mix.
Toys R Us
Toys R Us has all $3.49 bags of candy on sale for 50% off.  These bags are 6.34 oz to 18.7 oz.  Skittles, Reese's, Snickers, Kit Kat, and Twix are pictured in the ad.
Pick 'n Save
Pick 'n Save has sales on several Halloween candies:
Hershey's Snack Size Candy 10.29 to 11.6 oz varieties - 2 for $5.
Hershey's Packaged Candy 9.2 to 17.25 oz varieties - 2 for $5.
Nestle Halloween Butterfinger or Crunch bars - 21 to 24 oz bags - 2 for $10.
Nestle 3 in 1 Big Bag 36.5 oz - $7.69
Walgreens
Walgreens features two bags of candy for $4.  Chose from 9.34 to 11.4 oz Mars, 11.5 or 12.5 oz Nestle, or 12 oz Necco.



Here's a cool way to carve a neat pumpkin, save some cash, and show your Brewer pride this Halloween!  The Brewers have two free pumpkin carving templates - available in the "M" logo or the classic ball and glove logo.
Other Major League Baseball teams have free templates available as well, such as the Cubs and the Yankees.
If you're looking for other unique pumpkin stencils, the History Channel has 24 free templates available, ranging from the usual cats, bats, and ghosts, to George Washington, the Statue of Liberty, and the American Flag.
When carving pumpkins with stencils you'll want to make sure to follow directions carefully.  The Brewers stencils come with suggestions to use either a pumpkin carving set or a spoon, serrated knife, pin or nail, and a pairing knife.  Also, the stencils suggest three steps after you have removed the seeds from the pumpkin:
Tape the stencil to your pumpkin.
Using a nail, needle or toothpick, punch holes following the lines of the stencil. Remove the stencil when finished.
Have your parents help you cut along the dotted lines you have made with the pin, nail or toothpick.
According to pumpkin carving instructions on eHow, it's much safer to use a pumpkin carving tool than a knife, so you may want to consider picking a tool up at the store.