GFS Marketplace in Franklin Opens on October 7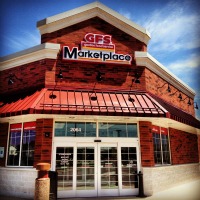 The new GFS Marketplace in Franklin is scheduled to open on October 7. The Franklin GFS Marketplace is located at 6919 S. 27th St. and is the fourth location in southeastern Wisconsin.
If you've never been to GFS Marketplace, think of it as an Aldi/Sam's Club hybrid. Stores are small and sell mostly private labeled products, similar to Aldi. Like Sam's Club, most of the items sold at GFS Marketplace are in bulk - suitable for parties or other large gatherings. In addition to food items, GFS Marketplace also sells plates, cups, silverware and condiments in bulk.
My Visit to GFS Marketplace
I visited the GFS Marketplace located on Miller Parkway this summer to purchase food for a family party.  I am not a member of Sam's Club, so it was nice to be able to buy in bulk without having to pay a membership fee.  I bought typical cookout fare - burgers, hot dogs, buns, potato salad and coleslaw. The prices were decent and I paid less than I would have for similar items at Pick 'n Save or Walmart.
Franklin GFS Marketplace Grand Opening Events
Although the Franklin GFS Marketplace opens on October 7, there will be a Grand Opening celebration the week of October 14.  Shoppers will be treated to free food and giveaways all week long. Full details including a schedule of events can be found on the GFS Marketplace website.
Have you shopped at GFS Marketplace?  What do you think of the store?  Please leave a comment and let us know! 
Comments