With less than three weeks to go, the countdown is on for the 2013 Wisconsin State Fair!
To help get ready for the Fair, the Wisconsin Bakers Association is offering a deal on gift cards for Original Cream Puffs redeemable at the Fair. This weekend only, receive a free 6-pack Cream Puff gift card ($18 value) when you buy two 6-Pack Cream Puff gift cards
Cream Puff gift cards are redeemable during the 2013 Wisconsin State Fair, which runs from August 1-11. The gift cards can be used at the Original Cream Puff Pavilion, at one of the Original Cream Puff Express locations, or at the State Fair morning Cream Puff Drive Thru.
Visit the Original Cream Puffs website before July 14 to take advantage of this offer.
The 2013 Tree-Ripe Citrus peach and blueberry season has started!
Tree-Ripe offers high-quality Georgia peaches and Michigan blueberries direct from the farm to Wisconsin residents at a reasonable price.
Prices for Wisconsin customers in 2013 are:
Georgia Peaches - $35 per 1/2 bushel box (approx. 25 pounds)
Michigan Blueberries - $17 for a five-pound box
Tree-Ripe delivers fruit to locations throughout the state through August 10. Tree-Ripe parks a truck at a pre-arranged spot for typically 1-1/2 to 2 hours and sells cases of fruit right from their semi-trailer.  No pre-orders are accepted - you just walk right up, get in line, and buy your fruit!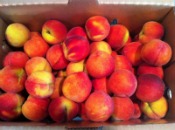 After buying peaches and blueberries from Tree-Ripe for the first time last summer, I was blown away by the quality of the fruit. The peaches were the best I have ever had - very sweet and juicy; not rock hard and gritty like most I have gotten at the grocery store. I had been looking forward to buying them again this year, so I went and picked up a box of peaches the first day they were available in our area.
25 pounds of peaches is a lot to consume in a short period of time, but my family has managed to do it - twice! The box of peaches that I received contained about 60 pieces of fruit. I plan on going to get another box sometime in the next couple of weeks. This time I will also get blueberries (they weren't yet available when I went last week).
For more information about Tree-Ripe Citrus including their delivery calendar, check out the Tree-Ripe website.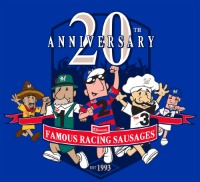 The Milwaukee Brewers Klement's Famous Racing Sausages celebrate 20 years of racing with free breakfast and t-shirts at Bartolotta's NorthPoint Custard on Thursday morning.
The first 250 customers at NorthPoint starting at 6 a.m. on Thursday, June 27 will receive a free breakfast sandwich, coffee, and a 20th Anniversary Klement's Famous Racing Sausages Commemorative t-shirt.
The Northpoint Custard stand is located at 2272 N. Lincoln Memorial Drive, south of Bradford Beach.
What started as a hokey black and white scoreboard animation at County Stadium has turned into a beloved tradition at Miller Park and at community events all over the Milwaukee area. The Milwaukee Brewers website has more information on the promotion and the history of how the Brewers racing sausages became local celebrities.