Have You Changed Your Furnace Air Filter Recently?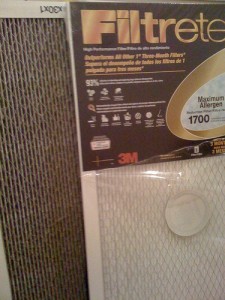 According to Energy Star, as much as half of the energy used in the typical home is for heating and cooling. Therefore, taking steps to make heating and cooling equipment as efficient as possible can save homeowners a lot of money.
With the colder weather we've been having most heating, ventilating, and air conditioning (HVAC) systems have been getting a good workout so its a good time to check the status of your furnace.  Our energy savings tip for the week is to make sure you've changed your air filter for your furnace recently.  According to Energy Star, homeowners should check their air filter every month and change it when it looks dirty.  Also, Energy Star recommends that at a minimum, the filter should be changed every three months.
In addition to the advice from Energy Star, it may be helpful to check the owners manual for the HVAC system to find information that is applicable to you.  The type of filter you use and the conditions of your house (e.g. if you have pets or allergies) will also make a difference in how frequently your air filter needs to be changed.
HVAC air filters should be changed regularly for several reasons:
Dirty filters slow down the flow of air and consequently the HVAC system has to work harder, using more energy in the process.
Dirty filters result in more dust and build up in the HVAC unit, increasing the probability of expensive maintenance procedures.
Clean air filters will help trap dust and allergens, preventing them from being circulated throughout your house.
For more information on Energy Star's recommendations, see their HVAC webpage.
Comments