Now that the weather is getting warmer in Wisconsin, it is more likely that households will start running their dehumidifiers on a regular basis.  This is a good time for homeowners to inspect their dehumidifier and to determine if the purchase of a new, energy-efficient dehumidifier makes economic sense.
As we discussed last June, according to the WE Energies Appliance Calculator, the estimated cost to operate a standard dehumidifier is about $25 a month!  Using an Energy Star dehumidifier could save you about $7.50 a month.  Assuming you use a dehumidifier four months out of the year, annual savings would be about $28.  And, don't forget, WE Energies rates went up in 2010 and are projected to continue increasing in 2011.
Consumer Reports suggests purchasing a model that scored the best efficiency ratings in their test, and to purchase the largest-capacity dehumidifier that you can afford because it will work quicker and more efficiently than a smaller unit. Subscribers of Consumer Reports can utilize their dehumidifier buying guide.  A free overview from Consumer Reports (dated June 2008) can be found here.
Energy Star also has an informative webpage with information on specifications of Energy Star dehumidifiers, buying guidance, and frequently asked questions.
Wondering where to purchase a dehumidifier?  Local stores such as Sears, Best Buy, Home Depot, Lowes, etc. are all good options.  Although models tend to vary from store to store, making exact comparisons difficult, it is helpful to do some comparison shopping online before stepping into a store.  The #1 sales ranked dehumidifier on Amazon.com right now is a Frigidaire 50-Pint Dehumidifier currently pricing at $185 with free super saver shipping.  The same dehumidifier is currently on sale at Best Buy for $179.99 but standard shipping is $30.42. However, the nice thing about Best Buy is you can buy online, and pickup in your local Best Buy store.

Have any advice to share with our readers about your experiences with dehumidifiers?  If so, please leave a comment.
We regularly feature energy savings tips to help Milwaukee area consumers reduce their utility bill.   Follow this link to see all of our previous energy savings tips.
The Energy Star website has a thorough 13-page do-it-yourself brochure available with detailed guidance on how to seal up air leaks in the attic and basement.  This makes for a nice project to tackle at this time of year since you can work inside your home, help make your home more comfortable during the winter, and attempt to reduce your utility bills.
The guide covers topics which include using foam and caulk for small gaps in the attic, sealing the attic hatch or door, sealing heating and cooling ducts, insulating recessed "can" lights, and adding attic insulation.
Keep in mind that your expenses on insulation and products that seal air such as weather stripping, spray foam in a can, and caulk designed to seal air may be eligible for a federal tax credit that expires on December 31, 2010.  See the Energy Star webpage for tax credits for more information.
Each Wednesday we highlight an energy savings tip to help Milwaukee area consumers try to reduce their utility bill. Follow this link to see all of our previous energy savings tips.
Interested in knowing how energy efficient your home is?  Simply use the Home Assessment Tool from Focus on Energy to see how energy efficient your home is.  Once you've completed all the easy to answer questions you can receive a report via email detailing suggestions for efficiency improvements and money saving energy tips.  If you wish to pursue energy efficiency improvements, you can forward the report to a Home Performance with ENERGY STAR authorized consultant to conduct a home energy audit and help get you started on your projects.
Watch a short three minute video about Home Performance with ENERGY STAR to learn more about the program.
We regularly feature energy savings tips to help Milwaukee area consumers reduce their utility bill.   Follow this link to see all of our previous energy savings tips.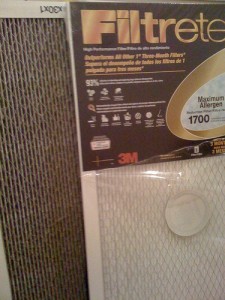 According to Energy Star, as much as half of the energy used in the typical home is for heating and cooling. Therefore, taking steps to make heating and cooling equipment as efficient as possible can save homeowners a lot of money.
With the colder weather we've been having most heating, ventilating, and air conditioning (HVAC) systems have been getting a good workout so its a good time to check the status of your furnace.  Our energy savings tip for the week is to make sure you've changed your air filter for your furnace recently.  According to Energy Star, homeowners should check their air filter every month and change it when it looks dirty.  Also, Energy Star recommends that at a minimum, the filter should be changed every three months.
In addition to the advice from Energy Star, it may be helpful to check the owners manual for the HVAC system to find information that is applicable to you.  The type of filter you use and the conditions of your house (e.g. if you have pets or allergies) will also make a difference in how frequently your air filter needs to be changed.
HVAC air filters should be changed regularly for several reasons:
Dirty filters slow down the flow of air and consequently the HVAC system has to work harder, using more energy in the process.
Dirty filters result in more dust and build up in the HVAC unit, increasing the probability of expensive maintenance procedures.
Clean air filters will help trap dust and allergens, preventing them from being circulated throughout your house.
For more information on Energy Star's recommendations, see their HVAC webpage.
As we've mentioned before, the Energy Star Rebate Finder is a great resource to check before you purchase just about any major item for your home.
Current rebate offers include:
Wisconsin Focus on Energy $15 mail-in rebate for light fixtures and ceiling fans.
Wisconsin Focus on Energy $50 mail-in rebate for high efficiency gas storage water heaters.
Wisconsin Focus on Energy $100 mail-in rebate for whole home gas tankless water heaters.
Dacor refrigerators and freezers - possible savings of up to $4,670.
ASKO dishwaher $100 mail-in rebate.
Wisconsin Focus on Energy $30 mail-in rebate for LED fixtures.
Buy two or more GE Profile or GE Cafe appliances (dishwashers, refrigerators, freezers, etc…) and receive a $100 to $500 prepaid Visa card based on the number of products purchased.
Bosch Home Appliances Corporation dishwashers, refrigerators, freezers, clothes washers - receive $100 to $300 mail-in rebate depending on product purchased.
Electrolux Home Products mail in rebate of $30 to $150 if upgrading to a Frigidaire appliance, including dishwashers, side by side and top-mount refrigerators, front-load clothes washers, and laundry centers.
Wisconsin Focus on Energy natural gas condensing water heater $150 mail-in rebate.
For more details on any of these offers, visit the Energy Star Rebate Finder.
Every Wednesday we highlight an energy savings tip to help Milwaukee area consumers reduce their utility bill. Follow this link to see all of our previous energy savings tips.
By now you've probably seen or heard several advertisements on television, in the newspaper, or on the radio for local Milwaukee area window companies promoting their product in conjunction with a $1,500 federal tax credit.
If you are considering replacing your windows, the ENERGY STAR website has comprehensive information on the federal tax credit for energy efficient windows, doors, and skylights.  However, just because we are nearing the end of the calendar year, it does not mean that the federal tax credit is going away.  According to ENERGY STAR, qualifying products purchased between January 1, 2009 and December 31, 2010 are eligible for a tax credit equal to 30% of the product cost.  If you are considering window replacement, be sure to have your window salesperson explain how their windows qualify for tax credit.
In fact, as of January 4, 2010, ENERGY STAR windows will need to meet more stringent requirements.  So, another question worth asking is if it would be in your best interest to wait to buy windows so you can get a more energy efficient window once the more stringent requirements are in place.  Perhaps their windows already meet that requirement, but it's a question worth asking.
We took a look at the ENERGY STAR rebate finder and there aren't any local incentives from ENERGY STAR partners such as Focus on Energy.  (Regardless of a federal tax credit, it's a good idea to check the ENERGY STAR rebate finder whenever you are purchasing appliances, heating and cooling equipment, lighting products, office equipment, or water heaters!)
According to ENERGY STAR:
installation is not included in the federal tax credit, so be sure to obtain an itemized invoice from your retailer or installer.
the maximum amount of homeowner credit for all improvements combined (including roofing, insulation, HVAC, and water heaters) is $1,500 during 2009 and 2010.
For purchases after June 1, 2009, homeowners must obtain a manufacturer certification statement to document window, door, or skylight eligibility for the tax credit.  If the retailer or installer cannot provide this document, it may be available on the manufacturer's Web site.
There are separate guidelines for purchases made before June 1, 2009 (see the ENERGY STAR website for full details).
If you are considering replacing your windows, there is a lot of information to research.  Learn about all the details on the tax credit for windows, doors, and skylights on the ENERGY STAR website and, as always, consult your tax advisor for any tax credit  questions.
According to the Energy Star website, about half the amount of money spent on energy in a home is spent on heating and cooling costs. Therefore, making good decisions on your heating and cooling equipment can save you time and money.
With the cool fall weather we've been having, many Milwaukee area residents have turned on the furnace for the first time this fall, so this is a perfect time to read up on heating and cooling efficiency tips from Energy Star.
Among the many tips that Energy Star recommends, one of the most important is for homeowners to keep their HVAC unit running in top shape.  If you are a homeowner, you should tune up your HVAC unit on an annual basis in order to improve the efficiency of the unit and the comfort level of your home.
Energy Star has a list of 10 tips for hiring a heating and cooling contractor.  If you are looking for a contractor, one option is to use Service Magic

.  Service Magic

is a free service to homeowners, where you can search for professionals nationwide.  Homeowners can be matched with up to 4 professionals for each project, and have the contractors compete for their business.  You can also review comments on each contractor to help you pick who is right for you.