In December we reported that the popular children's consignment store Playroom Closet was planning to close its doors in January and that the owner was trying to sell the business.
We're happy to report that the business has been sold and has relocated to 1320 S. 108th Street, which is one block north of Greenfield Avenue on Highway 100.
If you are looking to visit the new Playroom Closet location, just look for the sign for Northern Brewer on Hwy. 100. The door to Playroom Closet faces the parking lot for Northern Brewer.
Playroom Closet store hours:
Sunday and Monday - Closed
Tuesday & Wednesday - 10 am to 5 pm
Thursday & Friday - 12 pm to 7 pm
Saturday - 10 am to 4 pm
Playroom Closet is currently accepting spring and summer items for consignment.  Consignment hours are:
Wednesday - 10 am to 4 pm
Thursday & Friday - 12 pm to 6 pm
For more information about the new Playroom closet, call them at 414-258-0700, or visit thePlayroom Closet website.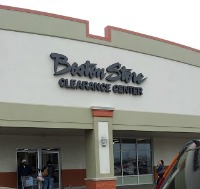 The new Boston Store Clearance Center in Milwaukee opened last week. The 29,000 square foot store is located just south of 27th and Grange at 5655 S. 27th St. The outlet center sells leftover clearance merchandise including apparel and housewares from Boston Store stores.
One of our readers, Renee, stopped at the store on Saturday to check it out and contacted us about her reactions. In summary, she wasn't impressed.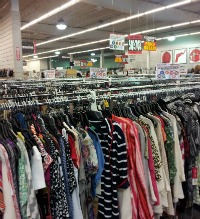 If you're expecting the Boston Store Clearance Center to be an upscale outlet store like Nordstom Rack, you'll likely be disappointed.
With long racks of clothes, the store seemed more like a thrift shop than an outlet store. There is nothing wrong with thrift shops, but the low-end feel of the store doesn't jive with the high-end Boston Store brand. Shopping at Boston Store is an upscale experience, which doesn't transfer to the shopping experience at the outlet store.
In fact, Renee thought that lower-end outlet stores like Marshalls and T.J. Maxx offer a nicer shopping experience and better prices than the Boston Store Outlet Center.
Boston Store Clearance Center Prices
Most of the items at the Boston Store Clearance center are priced using a color coded sticker system. The color represents the price of the item - anywhere from $5 to $50, with most items priced between $16 and $35. Renee noted that some of the items she saw could have likely been purchased cheaper at Boston Store during their 80% off Yellow Dot Clearance sale. Coupons are not accepted at the store. 🙁
Renee's biggest frustration was that there were only four fitting rooms for customers to use. Since the all sales at the store are final, you need to make sure that whatever you are buying fits before you leave. The store was crowded and there was a very long line to use the fitting rooms.
Boston Store Clearance Center - Your Thoughts
Have you been to the new Boston Store Clearance Center? If so, we want to hear about it! Please leave a comment and let us know what you thought of the store.
Saturday is Squeaky Cheese Day at Penny Mustard furniture stores. All visitors will receive a pound of fresh made cheese curds absolutely free!
The owners of Penny Mustard, brothers Arvid and Ben Huth, purchased all of yesterday's milk production from their brother's dairy farm in Eau Claire County. Last night, the milk was sent to LaGrander's Hillside Dairy where they made a special night batch of cheese curds. On Friday night, the cheese will be delivered to the seven Penny Mustard showrooms in Milwaukee and Chicago to give away on Saturday.  

These cheese curds are so fresh, they squeak when you eat them!
There are 3,500 pounds of cheese curds to give away. When they are gone, they are gone!
Penny Mustard has three stores in the Milwaukee area:
Greenfield  - 8380 W. Layton Avenue
Menomonee Falls  - N95 W17061 Richfield Way
Brookfield  - 16220 W. Bluemound Road
All Penny Mustard stores open at 10 a.m. on Saturday. For more information about Penny Mustard, including details on their Illinois stores, visit the Penny Mustard website.