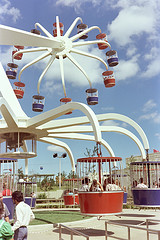 Six Flags is once again repeating their great Buy One Get One Free offer this summer.  For a limited time, you can get Buy One Get One Free tickets if you purchase your tickets online at  SixFlags.com. 
The regular price of a ticket is $56.99.  With this deal, tickets are just $28.50 each.  The buy one get one free tickets are valid on weekdays only.
If you are visiting on a weekend, or need an odd number of tickets, take a look at the Adults Pay Kids Price promotion.  Six Flags is offering adult tickets for the kid's price ($36.99), for a limited time.
By taking advantage of these offers, you'll save a considerable amount of money over buying your tickets at the gate.  Admission to Six Flags Great America also includes admission to their water park,  Hurricane Harbor.  This promotion runs through July 8th and is only available by purchasing your tickets online at SixFlags.com.
As a side note, while looking for a picture for this post, we ran into several really cool vintage pictures of Great America from 1976 taken by photographer Alan Light.  If you remember going to Great America in the 70's or 80's, you might want to check out Alan's photos for a trip down memory lane.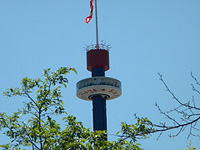 If you're planning on visiting Six Flags this summer, you can save significant money by purchasing your tickets now.  By purchasing tickets online, you can get adult tickets for the children's ticket price - $39.99 (a savings of $20 per ticket).  This offer is available for a limited time*. 
Tickets purchased now can be used any time until September 17th, even after the promotional pricing ends.  This offer is not available at the gate.  In fact, if you wait to purchase  your tickets at the gate, you'll pay full price and will most likely spend time waiting in line. 
* The Six Flags website states that the $20 savings is available for "a limited time", but gives no expiration date of the promotion.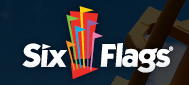 The 2011 operating season kicks off this weekend at Six Flags Great America.  To celebrate the 30th anniversary of the iconic American Eagle roller coaster, they are offering admission for just $19.81 (great deal - regular gate admission to Great America is $56.99 for adults and $36.99 for children). This deal is only available for tickets that are purchased online.
Six Flags is open from 10:00 a.m. until 8:00 p.m. on Saturday and 10:00 a.m. until 7:00 p.m. on Sunday.
The American Eagle opened in 1981. The ride lasts 2:30 with a vertical drop of 147′. The Eagle's top speed is 66 MPH. According to Wikipedia, when the ride opened, the American Eagle was the tallest and fastest wooden roller coaster in the world. Even 30 years after its debut, it is still one of the most popular rides at Great America.