Lakeshore Chinooks 2013 Promotional Schedule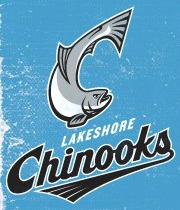 If you're looking for something fun and new to do this summer, consider taking in a Lakeshore Chinooks baseball game at Kapco Park on the campus of Concordia University in Mequon.
The Chinooks are part of the Northwoods League, which is a summer league for college baseball players.
Our readers had great things to say on Facebook last year about their experience at a Chinooks game.  There are also several positive reviews on Yelp which contain good information about the games.
I was disappointed I didn't have the opportunity to make it to a game last year, so it is on my to-do list for this summer.
The Lakeshore Chinooks recently released their 2013 promotional schedule and they have 25 scheduled promotions.  My favorites include:
May 30 - Opening Day & Schedule Magnet Giveaway
June 16 - Father's Day & Umbrella Giveaway
June 19 - Bruce Froemming Bobblehead Giveaway
June 30 - Summerfest Ticket Giveaway
July 9 - Robin Yount Bobblehead
July 13 - Star Wars Night
July 21 - Gil Bobblehead Giveaway
August 1 - Fan Appreciation Night
In addition to the scheduled promotions the Chinooks also have the following weekly promotions:
Mondays - VIP Autograph Mondays - June 10, June 17, July 1, July 8, July 15
Wednesdays - Highland House Concert Series - June 5, June 19, July 10, July 31
Thursdays - Pepsi Family Nights - June 6, June 20, July 11
Fridays - Leinenkugel's Honey Weiss Friday Fish Fry - May 31, June 7, June 14, July 12, July 26, August 2
For more information or to purchase tickets, visit the Lakeshore Chinooks website.
Comments