$8 Brewers Tickets Courtesy of Ryan Braun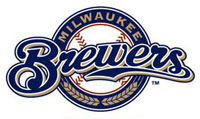 Ryan Braun has stepped up to the plate to offer Brewers fans $8 tickets to the interleague series against the Oakland A's next week.
Braun's generosity comes after the Brewers dismal performance during the month of May. The Brewers originally offered to knock $1 off each ticket for every win in May as a part of the Brewers Win, You Win! promotion.
Unfortunately, the Brewers have only won five games in May. To help make up for the disappointing month, Ryan Braun is subsidizing the promotion to let fans purchase either Terrace Box seats (regularly $24) or Loge Bleacher seats (regularly $23) for just $8.
Discounted tickets will be available for the following games:
Monday, June 3 at 7:10 p.m.
Tuesday, June 4 at 7:10 p.m.
Wednesday, June 5 at 1:10 p.m.
Tickets will go on sale at 9 a.m. on May 31 on the Milwaukee Brewers website. Quantities are limited and there is a limit of 8 tickets per person.
Comments