Amazon Andriod Appstore Launches with Free Angry Birds Rio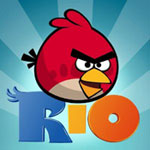 Amazon.com launched the Amazon Appstore for Android
 today and is giving away the newest Angry Birds game for free.  The Appstore offers over 3,800 paid and free apps for Android phones.  Every day they will offer a new paid app for free. 
Angry Birds Rio is available for free (regular price $0.99) today only.  If you have never played Angry Birds, it is a simple and addictive game.  You use your finger on the screen of your smartphone to launch birds with a slingshot in an effort to destroy pigs hidden on various structures.  If it sounds silly and stupid, that is because it is!  But is is also highly addictive and a good way to waste a few minutes.
According to Business Insider, the the Amazon Appstore for Andriod has a couple of drawbacks.  First, it is not available in the Android Market, so you have to download it directly to your phone.  Also, the Appstore does not work with AT&T Andriod phones yet.  For a tutorial on how to install the Amazon Appstore on your Android, take a look at this helpful post from Business Insider.
Comments