Fresh Georgia Peaches and Michigan Blueberries from Tree-Ripe Citrus
Tree-Ripe Citrus will be in town this weekend which means you have an opportunity to get your hands on some high quality Georgia Peaches and Michigan Blueberries at a reasonable price.
Tree-Ripe delivers fruit to locations throughout Wisconsin, Illinois, Minnesota, and Iowa.  During the summer they offer Georgia Peaches and Michigan Blueberries.  In the Winter they sell Marsh Ruby Grapefruit, Navel Oranges, Honeybells (Minneolas), Temple Oranges, and Georgia Pecans.  Tree-Ripe parks a truck at a pre-arranged location for typically 1-1/2 to 2 hours and sells cases of fruit right from their semi-trailer.  No pre-orders are accepted - you just walk right up and buy your fruit.  (However, we suggest you check the Tree-Ripe website or their Facebook page for the latest news on product availability.  Sometimes fruit may not be available due to weather, etc.)  The company claims that consumers save money because Tree-Ripe delivers fruit by the truckload directly from growers.  Prices for Wisconsin shoppers in 2012 are:
Georgia Peaches - $35 per 1/2 bushel box (approx. 25 pounds)
Michigan Blueberries - $17 for a five pound box
A few weeks ago I heard from a friend that Tree-Ripe was in town selling their Georgia Peaches.  Since I had heard great things about Tree-Ripe from friends and family in the past, I thought I'd check things out for myself.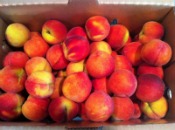 I went to their website and found the Milwaukee location that was most convenient for me.  I arrived during the time frame specified.  Although they were busy, I didn't have to wait in line.  I bought a case of peaches (a 1/2 bushel box) for $35, which equates to about $1.40 a pound.
At the time I made my purchase I noticed peaches selling for more then $1.40 a pound at the grocery store.  Although I have recently seen some peaches on sale for less than $1.40 a pound, I believe I got an excellent deal because the quality of the peaches was fantastic.  I gave away about half of the peaches to family members.  I still had plenty for myself and I proceeded to keep my peaches out on the kitchen counter.  (Per the instructions from Tree-Ripe, peaches should be kept at room temperature and then refrigerated after they have ripened.)  Two to three days later the peaches were ripe and my family started to enjoy the fresh, juicy peaches.  We ate the peaches for snacks, made peach juice, and froze a lot of the peaches for use at a future date.
On Saturday, July 7, Tree-Ripe will be selling peaches and blueberries at the following Milwaukee area locations:
Elm Grove - Elliott's Ace Hardware - 15360 Watertown Plank Road (Parking lot behind store) from 3:00 p.m. to 4:30 p.m.
Milwaukee - Northwest - The Schwabenhof - N56 W14750 Silver Spring Dr (2 miles west of Hwy 45) from 12:00 p.m. to 1:30 p.m.
Milwaukee - South - Menards located at 6800 S. 27th Street in Oak Creek from 9:00 a.m. to 10:30 a.m.
On Monday, July 9, Tree-Ripe will be at:
Menomonee Falls - Neu's Building Center - N95 W16915 Richfield Way from 12:00 p.m. to 1:30 p.m.
New Berlin / Hales Corners - Elliott's Ace Hardware - 12805 W. Janesville Road (same location as the old store - not the new store in Muskego) from 3 to 4 p.m.
West Allis - Elliot's Ace Hardware - 11003 W. Oklahoma Avenue from 9:00 a.m. to 10:30 a.m.
Tree-Ripe will be selling peaches and blueberries at additional locations through July 17th.  For more information, including the Tree-Ripe delivery calendar, check out the Tree-Ripe website.
Comments